D&AD New Bloods: two Black Pencils highlight future creative superstars
AUTHOR: Desktop

Published: July 8, 2016
D&AD has revealed the winners of the 2016 New Blood Awards. The winners brought their A-game, wowed the judges with their creative prowess and received their New Blood Pencil.
The New Blood Awards are a platform for students and other new creatives to test their limits on real briefs, set by real clients. Representatives of the briefing brands as well as industry experts decide who wins a pencil.
Emotive causes, higher purpose and Snapchat featured highly in projects this year. While the latter may come as no surprise, the former proves that the wider industry trend towards connecting brands with consumers on an emotional level has stuck a chord with graduates.
The power of 'creativity for good' continues to be a strong motivator with many campaigns focusing on world-changing creative ideas, resulting in four White Pencil wins across four different briefs.
Andy Sandoz, D&AD president and creative partner at Havas Worldwide, says, "Our two Black Pencil winners are incredibly emotive pieces of narrative. 'Bottles of Squash' shows us a raw and honest time of life where the simplicity of execution belies the depth of craft that is going on. 'Retro Serif' wins its Pencil for the story of the censorship of language. Creating a typeface that makes a positive impact on the world is an incredibly difficult brief and they delivered a beautiful piece of work."
58 different countries were represented by entrants, and 199 pencils were awarded: 2 Black, 4 White, 24 Yellow, 58 Graphite and 111 Wood.
Entrants submitted a response to one of 17 real client briefs, from Adobe to WWF.
James Wuds, of the UK, won a Black Pencil for his five-video series 'Bottles of Squash', a response to the brief set by  independent fashion and culture media brand Dazed: 'declare independence in 15 seconds'.
"[A] truly excellent stand out piece of work. Funny, poignant, cool and accomplished, proud to have on Dazed," said Jonny Kanagasooriam, creative strategy director at Dazed Media.
See the videos here.
Chelsea College of Arts student Polina Hohonova won the other Black Pencil for 'Retro Serif', her answer to a brief set by Monotype to, 'use the power of typography to activate your cause.'
Hohonova's project is about the revival of abolished Russian glyphs. "With the Bolshevik overthrow, it was decided to omit the letters I, Ѳ, Ѣ from the 'new' Russian alphabet as these were regarded as symbols of the aristocratic 'High Russian' and representative of the defunct Tsarist Russia," she writes.
"Those symbols were part of the original language, that was adopted by creative minds such as Pushkin and Tolstoy. Reviving these characters is a protest against the prescribed dictatorship of the language."
"Powerful. Political. Poignant. Rarely does a piece of work have the potential to inspire change and have such a profound impact on culture and society," said Craig Oldham, creative director and founder of Office of Craig Oldham.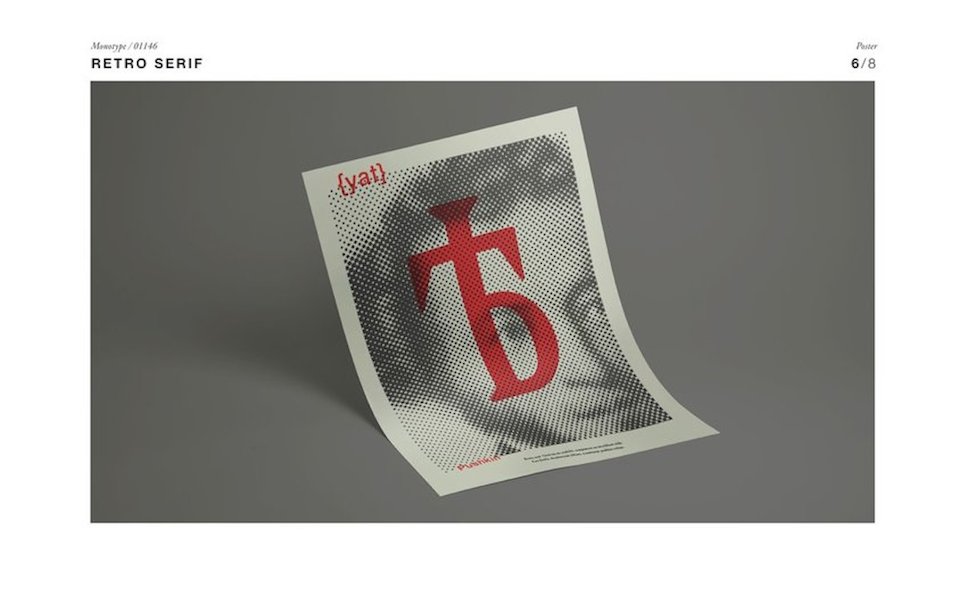 See all the Pencil winners here.