Books reviewed by Tiana Vasiljev, Beautiful Pages.
Powershop 3: New retail design
Carmel McNamara, Sarah de Boer-Shultz and
Marlous van Rossum-Willems
Frame Publishers, 2012, $145, 696 pages
Books@Manic
Powershop 3 opens the doors to a world where sneakers float suspended from ceilings, where abstract sculptural heads display reading glasses and dynamic lighting structures change appearance through the course of the day. At almost 4kg, Powershop 3 is a retail bible containing a huge collection of photographs, well-documented articles, sketches and floor plans. This book is a necessity for designers working in retail design and for business owners looking at setting up an inspiring and refreshing retail space. Discover the role designers play in integrating brand identity into retail concepts to create fun and striking retail spaces with this wonderful publication.
Graphic Design Manual: Principles and Practice
Armin Hofmann
Niggli Verlag, 2004, $95, 200 pages
Peribo
First published in 1965, Graphic Design Manual contains a very important collection of Armin Hofmann's teachings and methodologies. The invaluable rules, ideas and knowledge contained in this title should be learned by every practising and aspiring typographer and designer. Its four chapters explore Hofmann's basic building blocks and elements of graphic design: 'the dot', 'the line', 'confrontation' and 'letters and signs'. The featured illustrations are a collection of compelling and informative work by Hofmann's students. It is a valuable book that will teach students, teachers and designers a great deal about the fundamentals of design.
Kwadraat-Bladen: A Series of Graphic Experiments 1955-74
Adrian Shaughnessy, Tony Brook
Unit Editions, 2012, £16.95, 144 pages
Unit Editions
Kwadraat-Bladen was a regular journal of graphic experiments, brought to life by Dutch designer Pieter Brattinga. Its primary goal was to showcase his printing firm's skill, production techniques and high standards of work to designers worldwide. Brattinga had a determination to push the boundaries of experimentation and was among the first to encourage collaborations between printers and designers. As a result, the Kwadraat-Bladen series was responsible for some of the most cutting edge designs and print production techniques of its time. Another wonderful book by Unit Editions, the variety of work featured throughout the publication is incredible.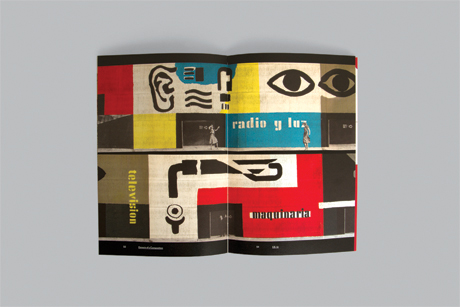 From desktop magazine.