Design Book Reviews
AUTHOR: Motherbird

Published: June 16, 2011
Reviews by Jack Mussett, Motherbird.
I Love Avant Garde
(I Love Type Series Vol 2.0)
Two.Points.Net
Viction:ary, $55
2010, 160 pages
I Love Avant Garde is the second addition in the I Love Type Series, the first being I Love Futura. This is one of those books that when you see it on the shelf, the designer inside you says, "Go on, touch it", and you do. This is because of the fluorescent pink gilded page edges and silver foiled cover. I once went through a phase of using Avant Garde so much that I had to stop using it all together. Cold turkey. Since seeing the beautiful content in this book, I have reactivated it in Linotype, ready for battle.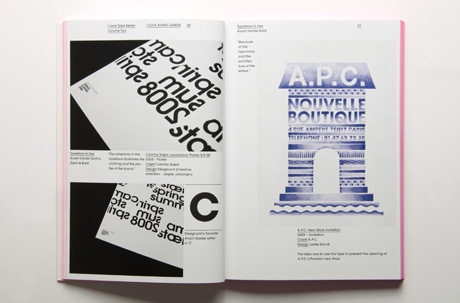 Just My Type
Simon Garfield
Profile Books, $29.99
2010, 352 pages
Type nerds gather round, Just My Type is just your type… of book. This recent release is more than just a history lesson. It seeks to see the lighter side of typography through a collection of interesting stories. If you want to know how Helvetica took over the world, why President Obama chose Gotham or how Mrs Eaves met Mr Eaves, you'll find it all in this book. As designers, we use typefaces every day, but often don't know the origins or context in which this type was created. So, before you use Baskerville again, read this book and learn a bit about it.
Latino-Gráfico
Two.Points.Net
Gestalten, $105
2010, 224 pages
Latino-Gráfico
latino-gráfico is a snapshot of Latin American art and design. It is hard to define Latino style when there are 22 different countries that fall under the title. The preface states how when we think of Latino, we often stereotype; however, this wonderful book shows how diverse, expressive and culturally-rich Latin American art and design is. The book is full of playful graphics whether they are handmade or computer generated. The pictures are mostly nice and large, but the hierarchy in the captions is a tad unclear. If you're inspired by Latino design, you'll love this book.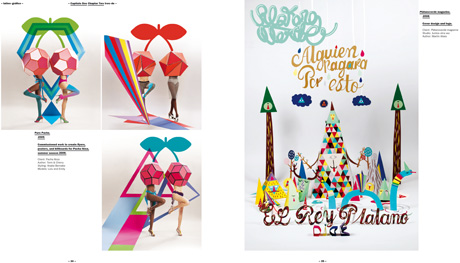 All images copyright Viction:ary; Profile Books and Gestalton.
From desktop magazine.