Design book reviews
AUTHOR: Motherbird

Published: September 21, 2011
Reviews by Chris Murphy, Motherbird.
Her Idea
Rilla Alexander
Victionary, 2010,
$45, 66 pages
Distributed by Books@Manic
With pages awash with beautiful illustrations, Her Idea, the latest offering from the hugely talented Rilla Alexander, is not among the usual suspects you would expect to find on a designer's book shelf, but a lovely story we can all relate to nonetheless. Presented in a picture book format, Her Idea follows the journey of a little girl named Sozi as she battles with inspiration, procrastination and bringing her idea to life. Playful rhymes tie this fun journey together 'the newest idea was always the best (but she loved them all more than the rest)' creating a classic tale that will both resonate with, and entertain any designer.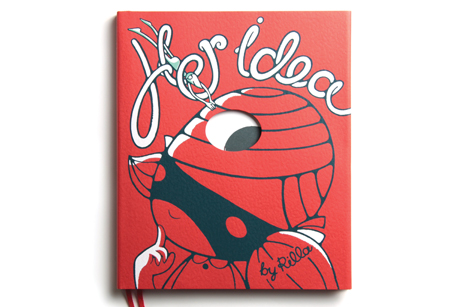 Lust: A Travelling Art Journal of Graphic Designers
James Victore
Rockport, 2010,
$39.99, 208 pages
Distributed by The Scribo Group
As designers, we can often be heard whingeing that our ideas are frequently squashed by budgets, timelines and client imposed restrictions. Working off this premise, James Victore sent a workbook whirl-winding around the globe, bouncing from one of 40 designers to the next, asking them to contribute content following their 'Lust'. What if there was no budget? No timeline? No restrictions? The result is an engaging showcase of these ideas, offering a tiny glimpse into their processes, motivations and aspirations.
The 3D Type Book
FL@33
Laurence King, 2011,
$49.95, 240 pages
Distributed by Thames & Hudson
The 3D Type Book is the third publication by London-based multidisciplinary design studio, FL@33. As promised by the preface, this book provides an incredibly comprehensive showcase of three-dimensional letter forms, turning everything from human skin to Venetian blinds into type. Many of the included examples are self-initiated projects by both established studios and emerging young guns. There are over 160 contributors all exploring how we interact with and relate to type – taking it from the page into a multitude of unexpected and playful forms. A fantastic source of visual reference to get those type juices flowing.
These titles are available in all good bookstores.
All images copyright by the respective publishers.