A hand picked selection of some of the latest design reference books that we think you are gonna love:
DESIGN PLAY: An Array of Quirky Designs
Viction Design, Distributed by The Scribo Group
RRP $90.00
www.victionary.com/book/design-play.html
Sometimes design just needs to be a bit of fun – and with the idea of 'Play', this book is jam packed full of incredibly playful and quirky visual tricks and interactive designs from a wide range of projects from all around the world. Seriously, we couldn't put this one down and were running around the office showing our colleagues the great collection of works that are featured inside.
Games and tricks often breed big ideas and this book should inspire you to amuse the bored by bringing peculiarity into your work. Be it simple or complicated, deliberate or unintentional, this art of spreading joy demands a strong commitment to break the rules and a knack of poking fun in a light-hearted way.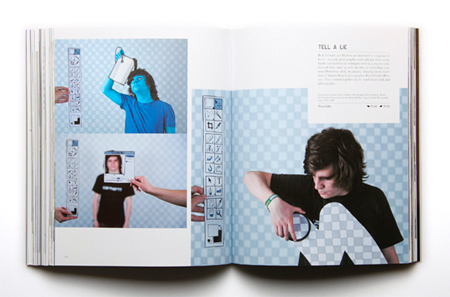 FLASHBACK: Retro Design in Contemporary Graphics
Viction Design, Distributed by The Scribo Group
RRP $90.00
www.victionary.com/book/flashback.html
In case you have been hiding somewhere – it's all about retro design right now, as us designers look back nostalgically to the 20th century to find inspiration for new graphic styles in this sometimes depressive pixel age. Some think the collective and sensational reference of the old time aesthetics is the retrieval of the lost enthusiasm for new findings and the future in the new century, while others see it as a tribute to the prominent art and design movements between the roaring twenties and the early nineties.
Taking a trip down memory lane and witnessing a bold and pronounced application of shapes, typefaces and illustration works in contemporary graphic art, Flashback unveils how the epoch persists to be an enduring spring inside modern creative studios in the well-defined sections of Geometry, Typography and Illustration.
As you would expect for a book of this nature, the attention to detail in the design is superb from the paperback embossed cover with hardback sleeve to the lovely uncoated stock that really adds to the look and feel of the book. A great addition to the library, this is sure to be a book that you return to time and time again.
Information Diagram Collection

Pie Books, Distributed by The Scribo Group
RRP $80.00
www.piebooks.com/english/search/detail.php?ID=1165
We all know that diagrams and charts are not the most exciting things in the world – so what are you supposed to do when you have to include one for a client piece that you are working on? You turn to this book for inspiration, that's what you do.
With tons of statistics flying around these days, visual representation of this data is often essential in order for clients and the public alike to actually understand what the numbers mean and the effect that they have. The old adage that 'a picture is worth 1,000 words' still rings true, perhaps even more so in this data heavy age.
This great collection is an awesome resource for anyone working on any kind of diagram, and includes hundreds of examples of interesting, dynamic and creative ways of visualising complicated information through the likes of graphs, tables, flow charts and illustrated diagrams. Included in the book are designs from global corporations such as Nike, American Express, and DIESEL plus an awesome chapter on maps, pictograms and cartography.