Outré Gallery 'Tattoo Parlour' book launch
AUTHOR: John Raptis

Published: November 14, 2011
I'm gonna be brutally honest here, when it comes to event photography… I suck. I suck a lot! I really don't like doing this sort of photography because I'm not good at it and I'm as uncomfortable as one could possibly get when shooting in such a scenario.
Which is a crying shame because if I told you of some of the photographic opportunities I have forfeited due to this phobia, you'd be astounded.
Having said that, I have shot many events for Outré Gallery over the years. I consider Outré's Gemma and Martin two of the nicest, coolest and totally kick-ass peeps I have ever had the pleasure to meet. So when they put out a request to have an event photographed – I'm there. Nervousness aside. I am there.
The event was the launch of the gorgeous Tattoo Parlour book. In attendance was the amazing Angelique Houtkamp who I've had the pleasure to photograph at prior Outré events and a veritable sea of punters who had RSVP'ed to attend the event. Seriously the gallery gets so packed you literally do not have space to move, let alone breathe but as always, it turns out to be an incredibly fun night.
The book Tattoo Parlour is a showcase of artworks made by artisans who also make tattoos. The book comes in two forms – as a softcover and as a beautifully crafted hardback published by Outré Gallery Press.
There is also an exhibition currently running at the gallery until 30 November.
More information is available here.
Special thanks to Sam Difference for her wonderful assistance in the shoot.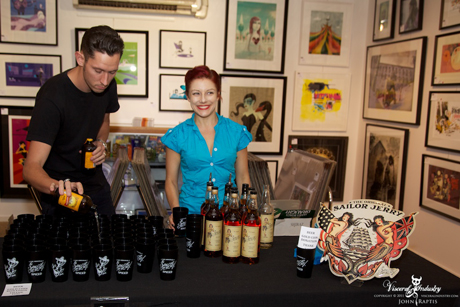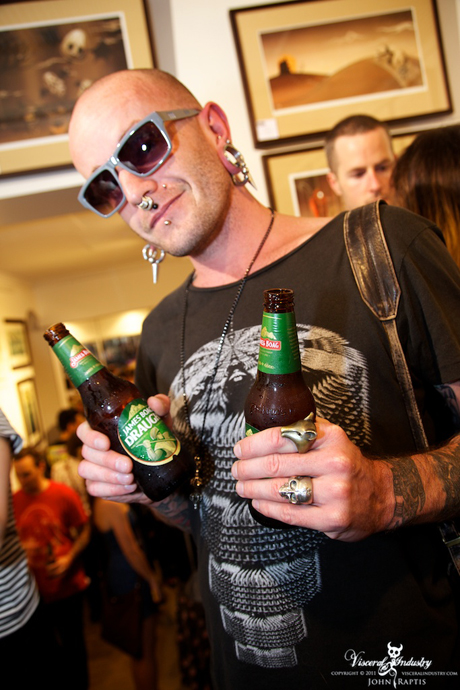 You can view more from the night at the Visceral Industry.