Some shiny new packaging
AUTHOR: Lee Barnsley

Published: August 19, 2010
Packaging can be a very daunting task for some designers, those immortal words "Can you make my logo bigger?" will be regularly heard from the lips of brand managers the world over. How do you get the personality of a brand across on a label that's no bigger than a postage stamp?
Well the answer is…. with lots of creativity and experience. So when a client comes along that has as much creative vision as the designer can muster, then the results can be pretty impressive. Here's a selection of new worldwide packaging that I've come across this week…
Grimm Brother's Brewhouse
Grimm Brother's Brewhouse is a new craft brewer located in Loveland, Colorado focusing on authentic German style beers. Each of their beers is named after one of the Brother's famous folk tales, so each label features a scene from each story, but with a twist. For example, Little Red Cap (or Riding Hood) has an axe hidden behind her back, making her more dangerous than the wolf.

Designed by The Tenfold Collective
From left to right:
1. Snowdrop (based on Snow White) / Honey Wheat Ale (aka Kottbusser)
2. The Fearless Youth (based on "The Boy Who Went Forth to Learn Fear") / Dunkel Lager (Munich Dunkel)
3. Little Red Cap (based on "Little Red Riding Hood") / Alt Style Ale (Dusseldorf Altbier)
Found via thedieline.com
Moonstruck Chocolate
Stunning packaging for Moonstruck Chocolate Bar Collection. Moonstruck is a Portland, Oregon based company famous for making premium handcrafted truffles. This packaging is Moonstruck's first entry into the premium, single origin chocolate market. Created by Sandstorm Partners, the packaging's goal was"to create a chocolate bar packaging line that imbues the same qualities that drive Moonstruck brand enthusiasm through it's truffles: handcrafted quality, visual beauty, multi-sensory experience and imagination". The Illustration work was created by London based Illustrator Kate Forrester.
Found via thedieline.com
Froosh
Interesting minimal packaging redesign for Nordic brand Froosh. Created by packaging powerhouse Pearlfisher, this packaging aims to solve the smoothie confusion in the Nordic regions and communicate pure fruit health benefits.
Found via Lovelypackage.com
Zarco
A stunning colour palette is utilised on this new packaging for UK low budget Tequila brand Zarco. Created by Stranger and Stranger, this packaging is aimed at the younger crowd who don't care too much about the 'Mexico Authenticity' or 'Old Mexico' that is usually seen in Tequila packaging design.
Found via Lovelypackage.com
Heineken Icone Pure
Heineken and French designer ORA-ÏTO teamed up again after previous collaborations. Back in 2002 ORA-ÏTO received the 'Oscar for the best packaging' for his aluminium Heineken bottle. The outcome of the latest collaboration is a new limited edition set of 100% sustainable aluminium bottles: the Icone Pure.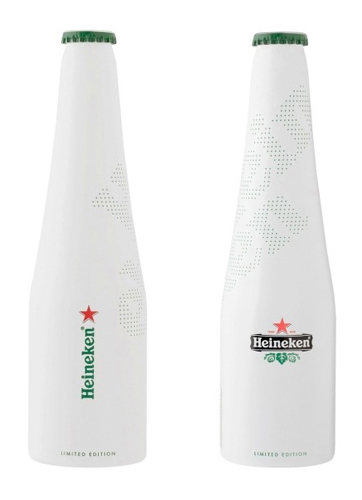 Found via minimalissimo.com
Woolworths Essentials – South Africa
Woolworths South Africa has begun rolling out its Essentials range of supermarket items, the first phase of a complete packaging overhaul being undertaken across all lines within the retailer's portfolio of house brands. The mammoth task is being overseen by designer Vince Frost, recently appointed as the company's Creative Director.
Found via frostdesign.com.au
V Isokinetic
V Energy Drinks have launched an interesting new product…. a drink that keeps you energised as well as hydrated. Unlike other sports drinks, this new product has added Guarana which they say keeps you going for longer. The packaging stays true to the core V can, while also playing nicely into the sports drink category. Designed by the Saltmine Design Group the product has been launched in Australia and New Zealand.
Gabbani
Lovely branding project completed by Demian Conrad Design for historic mythical and historic brand GABBANI in Lugano. In Ticino Canton (Switzerland), Gabbani is synonymous of quality and a point of reference for its "fine food" and hospitality. Now also bar, restaurant and hotel. A brilliant example of working with a historic brand, taking cues and references from it and developing a new and contemporary identity and graphic language to support.
Found via formfiftyfive.com