Dogtown dogma revolution: Board at NGV
AUTHOR: Charlie Rose

Published: January 23, 2012
Board is a skateboarding culture and artwork exhibition drawn directly from the collection of former Kiwi pro skater and self-confessed skatophile Tony Hallam. It's currently showing at NGV Studio, the NGV's newest art space that launched in 2011 that focuses on experimentation (street art etc.) for younger audiences. Hallam has between 700 – 800 boards in his collection; which range from the 1950s to present day, with a healthy focus on the Dogtown heydays of the 1970s. In Conversation was an informal intimate chat with Tony and senior curator Alex Baker where I joined a legion of mid 1940s silver skaters talk of the 1970s hey day of skater gnarliness.
I learnt that skating has had a history of fluctuation, as with any modern 'fad' now turned sport – it's hot, then it's not. Interestingly with skateboarding you can reflect on this history with its graphic art: as it reflects what scene/people were skating at that time. In the 1950s and 1960s, skateboarding's surfing roots were reflected in the plain wooden minimal aesthetic. As cool as this was, it was short-lived. The 1970s punk scene and 'renegade subcultures' converged with new board designs to create a totally different beast.
Hallam's collection focuses on this period of intense creativity and ingenuity from 1978 to 1983, where the Dogtown slackers took skating into the pool, onto the ramp and in skate parks that hadn't been previously imagined. These halcyon days were what Hallam and Baker concentrated their talk on. The advancements in skating form and function took it to exciting uncharted territory. Conical wheels, double trucked eight-wheel boards (pictured below), variations of the wood ply, steel reinforcement and cut away decks went hand-in-hand with a rapid graphic (r)evolution that progressed as if infected by toxic nuclear materials.
The Californian drought of the late 1970s meant that residents needed to drain their backyard swimming pools. What came next either by divine providence or hair-raising accident was the great un-washed flinging themselves around the pool with pace and courage. The deck graphics moved from simple branded stamps to classic 1970s skiing logotypes, pioneered by skate and ski manufacturer Sims. Colour, ornamental shapes and lines with hand drawn type were the new standard. The rise of the pro-skater led to the rise of the personalised and more radical graphics.
On show at NGV Studio are gems such as Tony Hawk's first signature model (1982) and an early Zephyr board (mid-1970s) personally owned by skateboard legend Stacy Peralta. As Hallam explained, the first pro to get his own deck was Neil Blender who rode for Gordon & Smith. The tale goes that 'he couldn't draw, so he asked his punk mate to and the breakthrough Gator art was born'. This opened the floodgates. Skater art became the art of Dogtown (logotype pictured below) and it was plastered over decks worldwide. As Baker explained, this became the sign for cool and could be seen across schoolbooks around the USA. These schoolbook forays were often the first graphic/art expressions of a generation, this youth-driven scene brought great examples of design and letterforms that used great form and colour and were produced on posters, stickers, badges, shirts and wheels.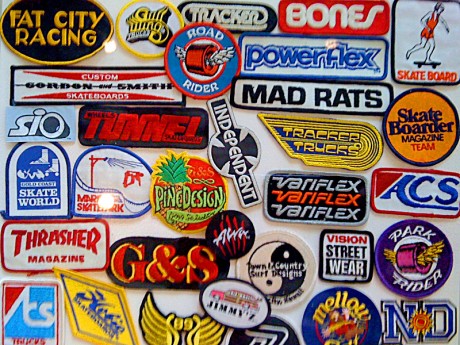 Early skate logotypes were a great hybrid of surf, ski and motorsport branding. They formed their own identity by expressing the youthful spirit that they skated with. The badges and stickers from the exhibition (pictured) demonstrate off the wall colour palettes and bold, strong letterforms that ultimately were the precursor to the 1980s fashion aesthetic that we know and love.
NGV Studio's In Conversation format was a great way of connecting the men behind the show with the wider community. During question time some of the audience members fondly recalled what it was to be like a skater in 1970s gritty Melbourne. Skating spots were limited and if you saw somebody with a board you'd stop them in hope of directions to the closest backyard drained pool. Great stories of missing the last train back from Melton Skate Park and some epic action at the Nunawading pipes kept popping up.
Board at NGV Studio is a great retrospective of one of the most complete skateboarding collections in the world. Part-graphic show, part-historical artifact exhibition. As senior  Baker shared, 'Skating is art as a physical culture mixed with material culture in a completely new context.' Board is an epic journey of how a sport and cultural revolution can coincide and influence each other.
Board is showing at NGV Studio until 4 February. Check out the details here
Any quotes above are from Tony Hallam or Alex Baker.