The line-up: define success as a graphic designer?
AUTHOR: Desktop

Published: May 21, 2012
Each month desktop puts a question to six creatives
This month's question:
How would you define success in terms of being a graphic designer?
Compiled by: Chris Bowden facingsideways.wordpress.com
Marian Bantjes
Graphic artist
bantjes.com
As long as you are really enjoying the work and making a living, that's success. But, on a broader scale, I think it's desirable to become a person of influence. This can be achieved through a number of avenues: from the work you do, how you do it and what its impact is, to your thoughts and ideas and how those are expressed. Whatever form that influence takes, the broader your scope of influence, the more successful you are: some are happy to have influenced their students in their home town; others are happy to have made their mark on a community. Some become icons in their country and others become internationally recognised.
Hannah Cutts
Design thinker, Cutts Creative
cuttscreative.com.au
Success in graphic design is the successful delivery of a brief. To succeed above expectation is to give something extra that doesn't detract from the main intent… an editorial image so lovely that you cut it out and turn it into a postcard. To succeed above and beyond expectation is to be brave and perhaps realise that the image is so descriptive that no editorial is actually needed. Think Colors magazine. Successful graphic design should not be self-expression, or art – but it certainly can be and one should hope, always aspire to be.
Annette Harcus
Principal and creative director, Harcus
harcus.com.au
As a graphic designer my definition of ultimate success is in the creation of a solution that is a design success, a client success and a marketplace success. A triple whammy. Each of these aspects has their own set of criteria and expectations to satisfy where quite a few of these coincide. So it becomes the archetypal three-set Venn diagram with the ultra amazing sweet spot at the centre. Success from my experience usually comes from using heart, head and hand combined with blood, sweat and tears.
Heath Killen
Designer
heathkillen.com
Beyond the obvious need for financial stability, recognition of your peers and pride in your work, I believe the ultimate measure of success for a graphic designer clients seek you out for your unique point of view and service. It's a competitive market and it can be difficult to cut through the noise. For a potential client, the process of choosing a designer can at times be arbitrary, so if there's something that makes you and your work genuinely distinct and desirable – you're at least halfway there.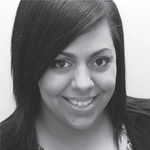 Natalie Seppelt-Deakin
Designer and letterpress printer
theinkroom.com.au, sherpadesign.com.au
I measure success in terms of how happy I am with what I am doing. Of course, there are always the obvious measures that contribute to this, such as financial stability, good clients, creative freedom and recognition. As a business owner and designer, to get to that happy place, I strive to have a good work/life balance (a constant work in progress), set myself short- and long-term goals, and always push myself to grow. At the end of the day, what makes me the most happy are the results that I achieve for my clients and exceeding their expectations.
Vince Frost
Creative director/owner, Frost Design
frostdesign.com.au
By using the power of your creative brain to help inspire others to be and do better than they could imagine.