The Space – Museum of Old and New Art (MONA)
AUTHOR: Alison Copley

Published: June 13, 2011
Words: Alison Copley
Museum of Old and New Art
Hobart, Tasmania
David Walsh has produced something quite intriguing on the banks of the Derwent River in Tasmania. The Tasmanian-born, multimillionaire has something which few others can claim – his very own museum. The Museum of Old and New Art (MONA) is set over 9500 square metres and is recognised as Australia's largest private museum complex. The site contains a museum, gallery, theatre and library, and was designed by Melbourne architect, Nonda Katsalidis, following Walsh's instructions that it be "deliberately underwhelming." The concrete and steel-panelled exterior is set into the sandstone of the river bank, with a long spiral staircase taking visitors underground to explore three different levels of exhibits.
What seems different about this museum is Walsh's intention. He wanted to stray from the neutral 'white cube' notion and instead gave Katsalidis the brief that "the art is to be discovered rather than shown off, so that the connection (or not) with the viewer is built from personal experiences rather than something imposed." The building was designed around specific artworks and features a water-covered gallery floor and a crimson velvet-lined gallery with gilded walls. Melbourne graphic designer, Leigh Carmichael, has worked with Walsh on previous projects, such as branding for Moorilla Wine, MONA FOMA (a music and art festival) and Moo Brew Beer. He was entrusted with the task of providing MONA with a unique visual identity. He recalls that conceptualising the branding was a slow process that took an intense six months of research. "I would say it was more influenced by art, philosophy and religious ideas than design books and magazines," says Carmichael. He realised that the concept needed to be strong in order to best represent the nature of the collection, as well as Walsh's aims for the space.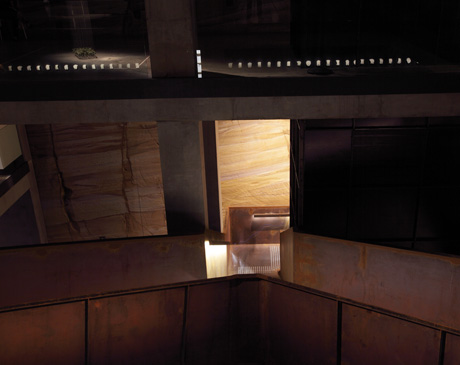 "The architecture is strong, with a large amount of steel and concrete," he explains. "In many cases, the space doesn't try to hide function; some of the internal facilities have been opened up to expose the workings of the building. Raw truth and honesty seemed  like values that should be aligned with what I was doing. There is a conscious effort to avoid decoration."
MONA was opened to the public at the start of 2011 with Monanism, comprising roughly 460 of Walsh's favourite works, from ancient coins to artworks from Damien Hirst, plus work from a wealth of both well-known and up-and-coming Australian artists. In stark comparison to displays in public galleries, chronological ordering of the exhibits has been abandoned and pieces are randomly displayed in order to draw attention to the artworks themselves, in place of presupposed ideas and concepts. The same goes for labelling – there is none. Visitors are given a digital device on arrival (named the 'O'), which not only relays facts about the artworks closest to you, but afterwards emails you statistics about your visit – what you looked at and how long you spent there.
Monanism runs until July, and it's only natural to be wondering what Walsh will present to us next.
All images copyright MONA.
From desktop magazine.