2014 Round Up: Adelaide-based studio Band
AUTHOR: Desktop

Published: October 24, 2014
Band, a design studio in Adelaide, only celebrated its 3rd birthday on July 1st of this year, but the evolution of the studio has been swift. The duo behind the name, Chris Cooper and George Randle, met while working at the same studio, and joined forces after the event of its closure. Now, Band has overcome the initial hurdles of a start-up, and as Chris Cooper explains, "shed some unsuitable clients and gained ones that are a better fit", and thrashed through some exciting local projects.
In the first of our 2014 Round Up series, we take a look at what this year was like for Band.
Folio
Band's most recent project was the naming and brand strategy, brand identity, website, brochure design, digital strategy and e-marketing for property development brand, Folio.
"Our first project in the property industry which is odd considering I personally have had a great deal of experience in the property sector," explains Cooper. "A super fun project which we collaborated with some super talented people to develop an investor focussed, property development brand that specialises in boutique, high end developments in inner suburban Adelaide."
Gallery
Shortlisted is this year's Create Awards Signage & Display category, Band designed the brand development, brand identity, place branding and signage for new Adelaide venture, Gallery.
"Our first collaboration with the uber talented guys at Studio Gram (who are responsible for interiors such as Motel Mexicola and Crakny Fins), we really enjoyed this one as it was a true collaboration — we all shared in the creative process whether it was visual or architectural, everyone chipped in and the cohesive result is testament to a successful collaborative process," explains Cooper. "We are currently working with the guys again on another exciting project that is due to be launched late 2014/early 2015. We scored finalist in the Eat Drink Design awards as well as shortlisted in desktop's 2014 Create Awards for this one."
Claire Kneebone
Band were involved in the naming and brand identity, brand development, stationery, and website for interior architect, Claire Kneebone.
"Claire is one of Adelaide's most successful interior architects, responsible for the interiors of some of Adelaide's top restaurants and bars," Cooper told us. "We really enjoyed this one as Claire shared our love for not only good design, but also beautiful stationery and print finishing. This gave us the opportunity to create an identity that reflected Claire's work as well as create business cards that we just fell in love with. Simple but elegant as well as bold and textural, all elements that are present in Claire's work. These were also shortlisted in the desktop Create Awards."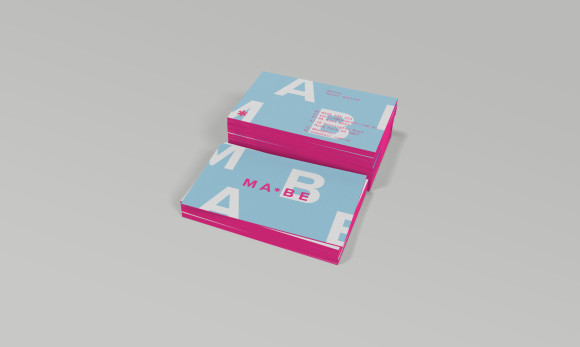 MABE
Band were involved in the original branding of Adelaide hair stylists Mabe, and this year were asked to work on the rebrand, brand identity and new stationery system, after the decided to head in a new direction.
"The guys at MABE wanted a rebrand as they felt their business was heading in a slightly more fun and youthful direction, and we jumped at the chance," said Cooper. "You rarely get to rebrand something that you created yourself so it was an interesting process. Again, a fun job, and I think the result speaks for itself."
Rip It Up
Band recently worked on the website redesign, digital strategy and brand development of Rip It Up – once a long-standing piece of street press, now solely online.
"Rip It Up is Adelaide's longest running music focussed street publication," explains Cooper. This year unfortunately saw the end of the traditional print version, but also saw the expansion and redesign of their digital and online version. Again, you don't often get the opportunity to redesign something that you originally created, but we were enthusiastic about the opportunity given that we had almost 2 years of data to work with and create not only an engaging music/entertainment online platform but also an intelligent end result."
—
Cooper explained that 2014 was an important year in the development of the studio, but 2015 will be even better. "We have so many projects we are excited," he explained. "They are just not quite ready to share yet." We'll be eagerly waiting until they are.
See more of Band's work on their website, where you can sign up for notifications of any more projects that have been published. 
All images curtesy of Band.