2014 Round Up: Frost*collective
AUTHOR: Bonnie Abbott

Published: November 6, 2014
In the third of our series of 2014 round ups, we talk to Vince Frost about his considerably busy and transformative year. Only a few months ago, Frost* went through a significant restructure, which means the company now operates under a new umbrella brand, Frost*collective, which oversees three separate businesses — Frost* Design, Urbanite (which had previously been the Frost* environment design team) and The Nest, which had been previously acquired for its mobile and apps project work.
On top of that, Vince also launched his book Design Your Life last month, which is in the process of rolling out as an entirely new brand that aims to offer tips for better living through the optics of design.
Vince and his team take us through some of the work that has defined 2014 for them.
Qantas Campus signage
Urbanite designed an integrated signage, wayfinding and environmental branding system for the newly-launched redevelopment of Qantas HQ in Sydney's Mascot. The redevelopment saw a consolidation of seven disparate buildings into one campus-style workplace, where Urbanite developed a system that would add depth and dynamism to the new environment.
"We've worked with Qantas for many years in customer facing arenas, including the Next Generation Check-in rollout, so it was exciting to be involved in helping the airline bring their brand to life at company headquarters," said the studio.
City of Sydney Cycling Safety posters
Frost* collaborated with the City of Sydney on a graphic poster campaign featuring a custom drawn, bicycle-themed font encouraging bike riders to ride safely when using the City's roads and new network of cycleways.
"We wanted to bring the idea of craftsmanship into the visual and create a message about riding out of bicycles themselves," the studio told us. "There is a real subculture around cycling and this creative speaks to the group with a voice from an insider's perspective."
"It was a thrill to work on this project with the City of Sydney, as their commitment to creating a better future for the people who live and work in this city is absolutely embedded in everything they do, which is absolutely something we want to be a part of."
Goodman Place Making
The Goodman brand required raised awareness to niche target audiences. Moving away from predictable solutions (such as billboards), the solution was found in branded structures that would translate the brand values in an abstract, rather than literal, way.
"Incorporating key brand elements (the square, the plus and the distinctive green) was paramount," the studio explain. "Equally, as the chosen locations are entry points into Goodman estates, a sense of entry was a consideration; as well as the necessity of day and night visibility. All of the installations are modular, designed for re-use and transportation; and to work across languages and borders, crucial to this international company."
Design Your Life
Design Your Life is the first consumer title penned by Vince Frost. The book covers Frost's 15 principles for designing success, as well as interviews with a range of experts and collaborators, including; OzHarvest's Ronni Kahn; Professor Roy Green, Dean of the UTS Business School; trend forecaster and CEO of The Future Laboratory and LSNGlobal, Chris Sanderson; Editor of Wired magazine, Scott Dadich; hotelier and entrepreneur, Justin Hemmes; Australian Kiteboarding champion, Ewen Jaspen; productivity consultant, David Allen; and head of Workplace at Lend Lease, Natalie Slessor.
"You don't have to be a designer to design your life," explains Frost*. "But it doesn't hurt to have some help. If my design process brings value to me, perhaps it can bring value to others. Or, more radically, bring others to recognise their own value."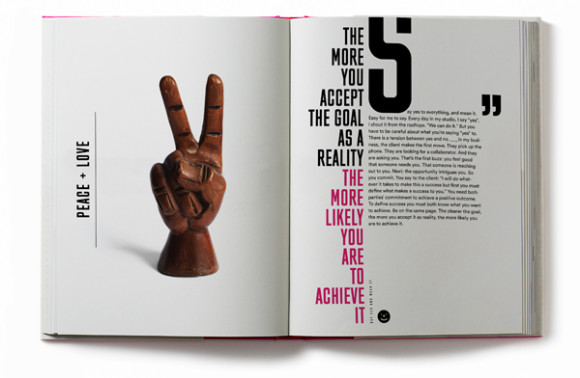 The Rocks Walking Tour App
The Nest was briefed by Sydney Harbour Foreshore Authority to bring the history of The Rocks to life through an engaging, interactive mobile-based walking tour, where each historic site would feature rich content creating an immersive experience that's accessible to everyone.
"The app was an amazing opportunity to use augmented reality to integrate the physical landscape with the digital experience," the studio explained.
_
All images: Frost*collective