A Month in the Life of… D&AD president Laura Jordan-Bambach
AUTHOR: Desktop

Published: October 27, 2014
Each month we'll be exploring the life of design through the eyes of a designer,  from their daily banalities to their award-winning triumphs. We're hoping to provide a glimpse at the working processes involved in being a professional designer, as well as the diversity of studio spaces, approaches, methods and means of inspiration across the globe.
This week, we take another look at what went on in September with the immensely busy, and wholly unstoppable Laura Jordan-Bambach. Australian born, Laura is co-founder of SheSays and Cannt Festival, out-going president of D&AD and creative partner at Mr. President.
—
Monday, September 1
So, a bombshell last thing on Friday has left me reeling and racing around like crazy today. I've been invited to Wuhan, China, to speak for two hours on my favourite subject – purposefulness in advertising and design – at the celebration of a new British Embassy. Being D&AD President has some definite perks. Travelling to, and getting under the skin of, other cultures' creative communities is the biggest one. And I've never been to China before. (And this is where everything starts to go wrong).
My visa has been a rush to get in time, not helped by the fact I've never travelled there before. At the last minute, I receive a call from the Chinese Visa Office – I can have the visa, but they can't put it into my passport, as I don't have enough blank pages left. Being an Aussie who travels a lot for work in Europe has taken its toll, and there are too many stray stamps from recent trips to Nike etc. I need a new passport, and I need it now. It's a day of filling in forms, getting photos done and heading to Australia House to try to sort this out before I leave on Thursday. All this around a pretty hectic workload – guess I'll be taking that home for a late night session later.
Tuesday, September 2
Jake Attree and I speak about our chapter at the Creative Social book launch, Hacker, Maker, Teacher, Thief. We pre-launch our site Punch Procrastination to support it, but its build hasn't finished yet, so we have to collect audience content on post-it-notes to type in later. That'll be fun…
Wednesday, September 3
Walked into work (via the Australian Passport Office) this morning for the first time since tearing a ligament in my ankle a month ago. 8.5kms. It's sunny and I'm feeling hyped.
Later I meet my new global MARTINI client, Alex, with the rest of the senior Mr President team. We share our previous MARTINI work, and spend a good deal of time talking about the upcoming brand launch. There's a lot to prepare – we have a couple of really breakthrough ideas for early next year to plan, and another Williams MARTINI Racing season to launch too, but those will go on the backburner for now. First things first.
While in the meeting, I get the message I've been dreading – the Chinese Visa Office just isn't flexible enough and I can't get my visa until Saturday. Too late for my talk and too late to find someone else to do it. I'm gutted, and sadly it means our D&AD presence there won't be as impactful. All that for nothing (except a new, clean passport for next time).
It's my son's first day back at school for a new year, so I make sure I get home in good time to say goodnight.
Friday, September 5
A call came in late last night to one of my business partners: we have a potential opportunity for a quick turnaround brief for a new, very cool client. But we need to deliver ideas back before Monday. Luckily we can have a Hyper Island-inspired session on a Friday afternoon, Friday 'Fika', for just such things. It's two hours where we share new and pro-active briefs, ideas without homes and concepts we can fund with "Marilyn" (our "bit on the side" fund for creating ideas without clients). So the brief igets written in super-quick time, and with the help of a few beers we have a deck of thoughts to send over by 7pm. I'll write them up and get them into a presentable state over the weekend.
Monday, September 8
This week for me is mostly about MARTINI again. We're launching a new Martini.com website, alongside the brand launch, so loads of work to be done. But we also have a music festival in the Bermuda triangle to help make happen for Bacardi, so it's mostly about that too. And Nike. It's going to be an epic week.
Tonight I have a dinner in Brixton with all the scholarship students in the new School of Communication Arts intake. It's one of my favourite colleges here –such a fresh way of teaching and is funded completely by industry. The students are fantastic, and I can't wait to mentor them in a few weeks. I'm also running sessions with the women on the course – sharing experiences that will help them be on the front foot in nine months time when they graduate. One of the students is from Bra; just outside Turin (right next to MARTINI's home town too), and we spend most of the night talking about what to do there when I visit with MARTINI next month for the Turin Slow Food Festival. I now have a few new great restaurants, and a cookery school to discover. Awesome.
Tuesday, September 9
Tuesday is my day at D&AD. Since becoming President last September, I've spent most Tuesdays here – working on everything from judging week and the awards night, to President's Lectures and our future vision. This is the last week before the Annual launches, so I'm both checking the print run and last-minute launch event details.
I leave at 6pm, and walk the 40 minutes or so from Brick Lane to clear my head and switch off before walking in the front door for family time. My son's already eaten so I just grab something from the fridge and settle down to share the day.
Wednesday, September 10
I'm speaking on a panel called "How to Avoid the Workplace Zombie Invasion" in Waterloo. The venue is under the railway arches somewhere but I can't find it – by the time I do, I've missed the cool immersive theatre bit and it's straight on stage. The panel session goes by in an instant, and it's back to work for a Maille meeting about an interactive retail installation, before heading home to start writing my talk for Brazil next week.
Sunday, September 14
I just introduced one of my favourite designers, Irma Boom, today at the V&A for the London Design Week. She walked though her amazing back catalogue, complete with stories and a generous helping of "don't give a fuck" attitude. She rocks, and I leave inspired and full of ideas.
Tuesday, September 16
D&AD Annual Launch!
Why, oh why did I choose not to drink in September? The night feels buzzy, almost festival-like. There are burgers, a sea of beers and some fantastic bands. And the Annual is really well received too. Five independent design studios from around the world have all contributed and its been a slog, but all worth it now. The toughest bit has been the final few weeks of proofs and reproofs, and trying to make it all come together. Late phone calls to designers and the D&AD Deputy President Mark Bonner for some expert print advice. The star of the show is the cover design, by Australian performance artists The Kingpins.
Wednesday, September 17
I'm speaking at a Bloom event with David Wheldon (one of my favourite previous clients) and others on achieving your creative potential. Bloom is a bit like SheSays, but on the account management/client side. It's brilliant to see another organisation promoting women in the industry, so I'm happy to help. David is the only man in the room, but it doesn't seem to faze him. Afterwards I catch up with my friend Anne Marie from The Drum for a quick chat and a very exciting glass of sparkling water. She has a beer.
Thursday, September 18
We haz kitten! Meet Tic Tac, the newest addition to our family!
Saturday, September 20
Up at the crack of arse to head to Sao Paulo, to speak at the CCSP (the Creative Club of Sao Paulo) Festival on behalf of D&AD.
I get to the airport on the other side and realise I can't find Pablo (D&AD's Brazil rep). I have no idea of the name of my hotel, or where CCSP is the next morning – I forgot to write it down in the craziness of the week. Finally, Pablo surfaces and we head off in a cab. Great Japanese for dinner, as recommended by Foursquare.
Sunday, September 21
Off to CCSP's judging and Festival – it's wonderful. Pablo invites his dad Renato, an academic and anthropologist, who has travelled down from Rio. I'm impressed that the judges all put aside time to do book crits, and the place is chocka with students and young creatives. After being steered towards being more controversial with my talk, I rewrote it last night, and I pull no punches. It goes down really well. After me is another Aussie, Matt Eastwood, Global CCO of JWT. It feels as if there's a lot of us Aussies in these senior creative positions around the world – is there actually anything in it?
After Matt's talk I head into the courtyard for food trucks with a difference. Japanese and a sommelier!
Sao Paulo has one of the biggest Japanese communities outside of Japan, and Pablo and I head off with two of Brazil's best production companies for a night of karaoke in Japan Town. I break my dry spell for a few hours, fill up with gyoza and manage a few duets. It's back to the airport tomorrow and back to London for work on Tuesday morning.
Tuesday 23rd September:
Straight off the plane, into a cab and off to MARTINI for an all-agency planning session around the new launch. Then, our Mr President board meeting. We're doing well, but the time to reflect together is good – we've grown fast and have a lot of work in the pipeline to get right. A reminder that Nick, Claire and I are in the driving seat and running an agency is serious stuff.
Off home after – an early mark, but I still have to write my speech for the D&AD dinner tomorrow. 
Wednesday, September 24
It's my last D&AD Trustees meeting as President, as I hand over tonight to Mark Bonner. A wonderful dinner, with many of our ex-presidents there. I sit opposite Michael Wolff and have hours of brilliant conversation around everything – including tattoos. I receive my President's pin, one of only 53. Our new Trustees are here too, and it's great to get to know them. We've got so many wonderful plans at D&AD for the next 12 months, and a strong team to deliver them.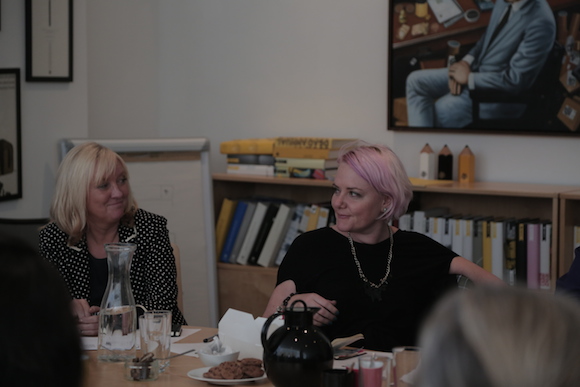 Thursday, September 25
We kick off a new pitch with a great briefing and a trip to see the client's services. Two weeks of focus to come, over two products and four creative ideas. Then checking work for MARTINI, Bacardi (that festival is getting closer!), Malts, GiftCloud, Maille and Nike.
I should go to SheSays tonight, but am running on empty by the end of the day and I have a kids party to organise for Saturday, so I head home. The SheSays team are so organised and talented that I know it will be absolutely amazing.
Saturday, September 27
Skyping my folks in Sydney. A few pangs of homesickness and thoughts of going for a walk along bush roads with my mum and their dog. Then a tornado of Minecraft cake, games, craft and nine very enthusiastic kids. And nothing to focus on for one day but how amazing my family is. It's a constant surprise how something so full of chaos can recharge your batteries and inspire you. And I'm ready to go again. Next week? More of everything.
—