An identity for the wounded warriors of London's 2014 Invictus Games
AUTHOR: Lucy Waddington

Published: June 15, 2014
Championed by Prince Harry, a 2014 sporting event to honour wounded warriors
As the recent host of the Olympic and Paralympic games in 2012, London saw a national resurgence in the celebration of athletic triumphs and tribulations. Held for wounded, injured and sick servicemen and women, Invictus Games was launched by His Royal Highness Prince Harry as a means of showcasing the enduring talents and abilities of 'wounded warriors' from 14 nations.
International branding agency, Lambie-Nairn, were inspired by the closing prose of William Ernest Henley's poem by the same name, Invictus — "I am the master of my fate: I am the captain of my soul." Executive creative director, Adrian Burton, explains that the identity "captures and elevates [an] unerring belief in the human spirit. From a branding perspective it turns a belief into a clear purpose. It's not what the games are endeavouring to do, but 'why' they're doing it that's ultimately important."
Every competitor at the Invictus Games embodies the unconquerable, determined and courageous spirit it takes to overcome adversity. The logotype captures and elevates this essence with bold and solid structure, placing it's feet firmly on the ground with rigid serifs. It also suggests the higher purpose of the games as a platform for personal achievement; a platform for the participants to compete, not just against each other, but against themselves; and the chance to prove that 'I AM', which instrumentally becomes the hero of the logotype.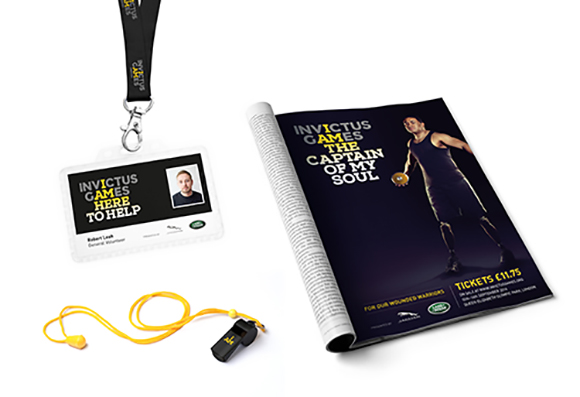 Invictus is a latin word meaning unconquered, embodying the fighting spirit of the injured men and women and what they can achieve, post-injury. The games provide the competitors with an encouraging boost as they continue on their road to recovery, while also inspiring many others who are just starting on a similar journey and providing the public with a unique opportunity to show their support.