It's just a typical day. You wake up (hopefully it's still morning), grab a coffee and head out down your street to work – it's the same route that you take everyday. Except something is a bit different today, the universe has shifted a little and the billboard at the end of your street, which normally displays an ad for Calvin Klein's latest boxers, is now displaying artwork you spent the last few months creating. You smile, you scream, you take a photo and even stop little old ladies in the street to tell them. Life is good.
No, this isn't a made-up story just to make you feel a little bit more inspired on a Monday morning, but rather something that recently happened to digital designer and illustrator Chrissie Abbott, and we get the feeling those moments are only going to become a lot more frequent.
Hello Chrissie. So tell us a bit about yourself.
Well, I was born in Hammersmith, West London 26 years ago, and now I live and work in Hackney, East London making pictures.

You recently worked on the campaign for English electropop singer-songwriter Little Boots, which we love. How did that come about?
Two years ago before she was signed, her management contacted me about designing a logo. We met up and discovered we had a wealth of interests in common, which led to me doing the rest of the campaign.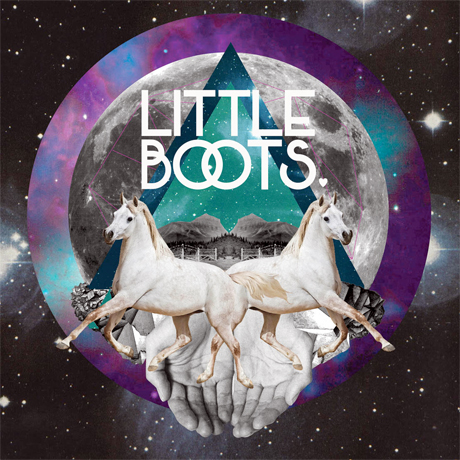 The majority of your work combines photography and illustration – can you please tell me a little about how you work across both mediums?
I've always felt most comfortable working with collage. It's always been a hobby that I guess has turned into a profession. I like building up layers and creating surreal landscapes that I work in afterwards. Working with photographs enables me to create images that I wouldn't be able to draw.
Do you plan your pieces or are they quite spontaneous and sporadic? What is your process?
More often than not that they are spontaneous as I don't like spending too long on things. Usually I start with a concept, research it a bit then gather images, make lists and write a little. Then I work on the layout and draw on top. I guess the best way to describe it is that my work looks like how my brain thinks.
Bitmap or Vector?
Bitmap for a main course and vector as a condiment.
Do you listen to music whilst you work? If so, what are you listening to at the moment?
Yes I can't work without music; it seems to make my brain function better and is often a massive influence on my pieces. At the moment I am listening to Apse, Mount Eerie, Volcano Choir, the Breeders, Dead Meadow and A Place to Bury Strangers.
If you could work for anyone, who would it be and why?
Fleetwood Mac because I love them.
In three words how would you describe your work ethos?
Positivity, humour, technicolour.
Where do you feel most inspired?
I usually feel most inspired when watching music live – also when I am by the sea or in places of greenery and nature.
What do you consider your greatest achievement?
I think my work with Little Boots because it's been the most high profile job that I've thoroughly enjoyed doing. It was also really surreal seeing something I'd been working on for months on a billboard at the end of my road. It was like the universe shifted in a (good) way.
What is your set-up? Gear? Studio?
I share a studio with two great friends and amazing artists, Rosy Nicholas and Seb Camilleri. It's in Dalston, East London above a screen-printing studio, which is super handy. I don't have oodles of gadgets or gear – in fact my scanner sounds like it's breaking at the moment and I suspect I will need to replace it soon. I have a Mac Powerbook, which is my most favouritest thing in the entire world.
Do you have any advice for fellow artists who wish to get their work out there and noticed?
My advice would be just to do work that makes you happy. If your work reflects who you are rather than you trying to be trendy or you get into a certain niche then it will make you happy and people will see the joy in it. The Internet is the best tool to get your work out there, so get a blog, a website and send your work to people you like. Also the fact is that you're going to have to do a certain amount of work for free before the big bucks come flying in – patience is key!
All Images Copyright Chrissie Abbott