CIIC report: Are designers letting businesses down?
AUTHOR: Desktop

Published: December 5, 2014
The Creative Industries Innovation Centre (CIIC), supported by Sydney's University of Technology, has released a forensic report that confirms some uncomfortable truths from IBIS World's graphic design sector evaluation for 2014. The results of the report appear to show that the industry is at risk of missing the mark when it comes to grasping commercial needs, the structure of strategic and financial management, and the basics of business in order to continue 'designing for design's sake'.
Initially it poses the question — can graphic designers deliver the commercial value that clients demand?  The report states that there is a "fundamental mismatch in how designers position their services, versus the commercial value the market demands." Unfortunately, the issue is exacerbated by the fact that designers now compete with all forms of communication, graphic or otherwise.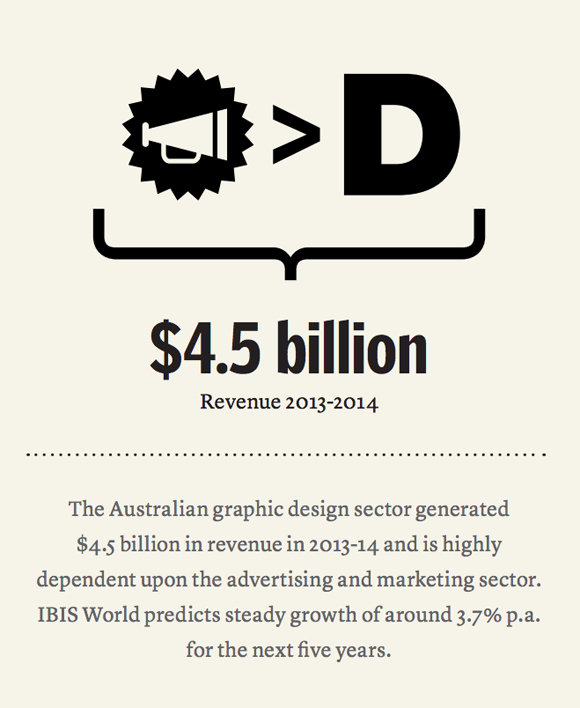 One, among many, pressure points is the rising competition and falling demand that is coupled with designers struggling to communicate the commercial value of their work. Awash with strategic and financial mismanagement, where "business principals oversee 'creative' aspects of the business", the designer is often lead to profitless jobs. Moreover, designers are all trying to sell the same thing — a holistic approach to communication and connection, despite being in desperate need of a "differentiated value proposition, and a robust sales and marketing plan."
In an ideal world, size and money would be no indication of success, but while many studios prefer to stay small they struggle to compete with larger agencies that are able to provide "vertically integrated services" from branding strategy to design, as well as keeping their equipment and technology constantly upgraded, immediately ready and able to deal with the "present cost of management and training issues".
The findings may sound a little glum, but this is an issue of evolution and adaptation, not destruction. CIIC propose that graphic designers are perfectly capable of exploiting market opportunities to achieve sustainable growth, suggesting:
Devise a business plan that tells a story
Determine your value proposition where your skills are a commodity
Create a sales and marketing strategy that can adapt and endure
Make plans to grow and scale up
Think niche
Polish your financial management skills to understand and capitalise on every stream of revenue.
The report comes to a close with a reminder that competition is fierce and finding a specialty is necessary, where "culturally, graphic design businesses would be wise to address weaknesses in practical business skills. Success depends on having formal management processes in place, combining creativity with strategic thinking, and acknowledging that most clients don't care about design – they care about outcomes."
The full report can be viewed and is available for download here.