Things on Friday with Stuart Hall and our editor
AUTHOR: Desktop

Published: February 13, 2015
At the end of each week we'll be rounding-up the best things we saw or did or stumbled upon over the past 7 days — with an editorial selection and the picks of a guest. This week our editor Katia Pase has teamed up with London-based designer Stuart Hall, to bring you this week's Things on Friday:
KATIA PASE
 1. 35 degree Melbourne days
Tin&Ed have created a special Valentine's day, pastel-purple gelato flavour for Pidapipo, with an accompanying window mural up now on the Lygon Street store.
2. V-day gift
I saw The Grand Budapest Hotel the day I returned to a loud city after a month or so hanging out among some mountains. Wes Anderson's symmetrical framing, dark humor and freight-train dialogue felt so familiar, and so magical. This week Abraham's Books released a companion to the film (and to their previous volume, The Wes Anderson Collection), penned by cultural critic Matt Zoller Seitz and designed by Martin Venezky's Appetite Engineers. The book, or series of books within a book, teases the film apart with interviews, essays, photos and illustrations.
Martin spoke to Design Observer about conceptualising the layered structure of the volume: "…it was noted that the film is a set of stories inside stories, beginning with the original book held by the admirer, and working its way historically back to Zero's origin story. At the same time, the film shifts its aspect ratio to match the time frame. All of this nesting in the film made it a natural strategy for the book's structure."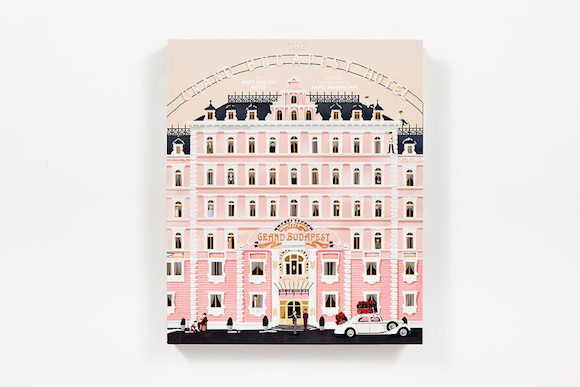 3. New Magazine Visions for 2015
From the visionaries at The Lifted Brow; read the full list here.
CONSUM´E: 64 Thick, Creamy Pages You Can't Eat But Really Want To
MISTER PIMM: Generously Spaced Photos of Craft Beers for the Modern Gentleman
TOTES: The Only Literary Journal That Can Hold Your Groceries
DAYME: The Refreshing Modern Biannual for Smart Independent Chicks Who Are Always Going On About Something
851 x 315: Facebook Banners to Cut and Keep
SKAVENGER: All the Writing is On the Front Cover so There's More Space for Sick Skateboards
GLACIER: Journalism So Slow Each Story is Necessarily Completed by The Writer's Grandchildren
4. An actual magazine that we launched
Sorry to be self-referential, but this week at desktop really was dominated by our relaunch on Wednesday. It was the first time I've addressed a crowd over the top of a gentle saxophone solo, and it was lovely meeting so many readers. If you missed it you can see what the new magazine is all about right here.
5. Greener pastures in the Melbourne CBD
If you're passing City Square this weekend visit The New Joneses 77 square-metre ArchiBlox dwelling, promoting eco-friendly ways of "little living". The wood-panelled, plant-covered, self-heating and self-cooling structure is the world's first carbon-positive prefabricated house, by architect Bill McCorkell and builder David Martin.
1. Cut Shaving
I came across Jaap Scheeren's book, Cut Shaving, (The Xerox Edition) while on holidays. It's designed by Hans Gremmen, who also designed Serendipity and Fake Flowers in Full Colour, the latter he did in collaboration with Scheerens as well. Cut Shaving explores ways of reproducing photography, photo books and visual archives of the photographers work. The result is this great kind of abstract journal/photo/scrap book thing that opens up the more times you flick through to read and investigate it.
2. Lads and Brown Cardigan
Imaging a really out of place, super fancy or really tacky coffee table book about the history of the 'Aussie Lad'. You could get the Selby guy to take the photos and over-foil the front cover. Also, it should be really expensive. I'd buy it. Anyway, I really like the memes and stuff, especially the the references to 'smoking cones'. I don't know why I like them so much—maybe it appeals to my shitty sense of humour…
3. Void Pie
I don't know who this illustrator is, but I really like their work. I love how crude and crass the imagery is — the comic strips are great too. That's all I really have to say about that, have a look.
4. Conflict • Time • Photography
Is a new photography exhibition at the Tate Modern I saw the other day, which was really great, if you can see it, you should. There was one work in particular that stood out for me by Adam Broomberg and Oliver Chanarin called People in Trouble Laughing Pushed to the Ground. I've just copied and pasted about the work from Mack Books, who published the book form of the project — "The Belfast Exposed Archive occupies a small room on the first floor at 23 Donegal Street and contains over 14,000 black-and-white contact sheets, documenting the Troubles in Northern Ireland. These are photographs taken by professional photo-journalists and 'civilian' photographers, chronicling protests, funerals and acts of terrorism as well as the more ordinary stuff of life: drinking tea; kissing girls; watching trains."
5. And then there's this…

—
In case you missed it, here's last week's top picks from assistant editor Lucy Waddington and contributor at ADR and desktop Doug Ross.