The year round up with Frost*collective in seven questions
AUTHOR: Desktop

Published: December 14, 2015
7 Questions with desktop is a series featuring the studios and designers who have been on our radar. We find out more about their personality, their tips and tricks of maintaining a design business as well as their quirks – all within seven questions. In this instalment, we speak to the team at Frost*collective.
---
Frost*collective is no stranger to the design community. A year ago, the agency, then known as just Frost*, underwent a massive restructure and now has three separate entities  – the environmental design team, Urbanite; a boutique digital agency, The Nest; and, Frost*Design which focuses on the agency's brand, design and communications work.
At the helm is Vince Frost who, along with creative director Ant Donavan, has taken us through various of Frost*collective campaigns, including most recently, its 'Ending HIV' campaign.
We check in with the team to find out more about their year and what it's like being a part of Frost*collective.
desktop: Frost*Collective is now a household name. But we want to know the backstory. How was Frost*Collective conceived?
Vince Frost, CEO, Frost*collective: Running a business is a design project in its own right. I am constantly looking for ways to make it easier, more efficient and more successful. Two years ago I decided to take on a business coach to help me evolve as a business leader. I worked hard on shifting from being a designer working in the business, to a CEO working on the business. This was a massive learning curve for me and now I feel very confident about growing and running businesses for growth.
In 2014, I decided to evolve what was Frost* Design into the Frost*collective. The collective is made up of three businesses – Frost* Design, The Nest and Urbanite. Managed by their respective business heads, each has a specialist offer and dedicated teams that are supported by group resources to work collaboratively and seamlessly. Now 12 months since Frost*collective was formed, the success of the group has proven to me that we made the right decision.
desktop: What's a typical day at Frost*collective like?
Adam Longo, senior design manager: It's hard to define a 'typical' day working at Frost*collective. The extensive range of projects, experiences and opportunities we are exposed to due to the interdisciplinary nature of the collective across branding, digital and environments, means you typically find that no two days are the same. No matter the activity, each member of the team brings passion and dedication to find the best creative solutions and achieve the best results for clients. It's this that makes each 'typical' day at Frost amazing. As part of Urbanite, a 'typical' day involves a mix of studio and off-site work. I could be holding design briefings and creative reviews in the morning followed by visiting a construction site to meet a contractor to ensure that our design is implemented correctly.
Then in the afternoon, I could be meeting a new client to talk through a particular problem, and how it can be solved. In such a collaborative environment, we have frequent team catch-ups to discuss, review and brainstorm different problems and use the collective's power to develop ideas and solutions. The creative, strategic and management team work together on various projects ensuring that each direction is heading towards success for our clients. Throughout the day I would typically find myself managing and working with the design team through strategy and guidance including presenting solutions to clients and liaising with builders and external specialists so that we achieve the best results for our clients. Amongst the hustle and bustle of the studio, this unique orchestration of disciplines comes together to create an inspiring, collaborative and dynamic studio culture where you find yourself providing input and ideas for projects at every opportunity.
desktop: Most of your work revolves around branding, identity, digital and the environment. What are some of the biggest rebrands that has happened over the years you like and why? 
Antony Donovan, Creative Director, Frost*collective:
FREESTYLE BY OBJECT GALLERY
This was an exhibition celebrating 40 Australian designers from all walks of life and from all over the country. It was a once in a lifetime opportunity to travel from Tasmania to the Tiwi Islands to photograph real people and to hear their stories. We (Frost* Design) delivered the exhibition brand, event, collateral and book design. Object Gallery and Melbourne Museum presented a groundbreaking exhibition of contemporary Australian design. Freestyle: New Australian Design for Living profiled Australia's best and freshest designs for the home.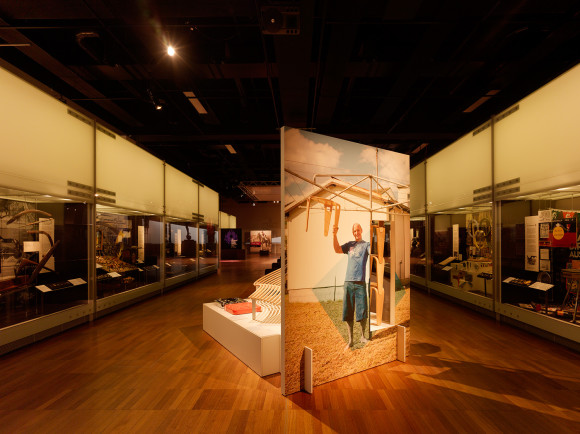 Included in the line-up was furniture by Charles Wilson, lighting by Bernabeifreeman, textiles by Cloth, homewares by Jon Goulder, fashion by Easton Pearson and Akira Isogawa, jewellery by Dinosaur Designs and personal accessories by Crumpler. Together, the works on show profiled the character, vibrancy and increasing maturity of contemporary design in Australia. Freestyle also revealed the stories behind the designs, disclosing aspects of the personality, passion and process of individual designers and placed their work in broader personal and cultural contexts.
TOURISM NORTHERN TERRITORY
This was one of the most rewarding experiences of my life. It was our job to share the Northern Territory's story and experiences of the land and its people from Darwin, to Kakadu, to Katherine to Alice Springs. The 'big NT' concept was born from a need to deliver the market with simple, powerful benefits and attributes. With many tourism adverts suffering leakage, whereby the consumer associates the advertising imagery with the wrong destination, it was crucial that all brand communications were able to be clearly and directly associated with the Northern Territory.
The tagline became 'Share our story. Amazing opportunity to share Australia's outback with the rest of the world.' The 'Big NT' name provided the opportunity to grab consumers' attention quickly and simply. Its success was such that it became iconic in the category – the Territory now uses Big NT as its primary name as a destination. This is testimony to the creative strength in working with both words and images and Frost Design's ability to create what we call a "mind smile" that makes creative more memorable and engaging.
EARLY START  
The social implications of designing behaviour are huge, and Frost*collective continues to have a powerful hand in inspiring those behaviours to life across sectors including health, education, government – even social welfare. Our work with the University of Wollongong's (UOW) Early Start program and education facility is one such example. This UOW initiative was created to bring access to educational opportunities to all children regardless of regional remoteness or social disadvantage. The Early Start facility and the Early Start Discovery Space is a unique combination of interactive, hands-on educational programs, experiences and networks. Frost*collective was charged with creating a multi-faceted brand for the program to ultimately create a positive education experience thereby inspiring kids to continue interacting and to learn through engaging.
The challenge however, was that Early Start had a very diverse set of audiences – children, parents, educators, uni students, academics and researchers. Urbanite and Frost*Design needed to find that single common thread which held the initiative together without diluting the message. The identity had to communicate broadly. It was to be approachable for kids, yet enticing to uni students, educators and academics. Frost*Design and Urbanite were together intent on avoiding the tired clichés of rainbows, building blocks and children's handprints in primary colours. The challenge was to design for the behaviour of different sets of people, using a single message. "Imaginaction" captured the dual approach of Early Start.
A combination of 'imagination' and 'action'. The message was immediately positive and appealing to all, manifesting itself in a series of creative elements including the logo (the cloud = imagination, the startburst = action), placemaking installations, wayfinding signage – as well as brand characters and mascots. The sheer optimism around the creative delivery of 'imaginaction' has been infectious, provoking real connections and meaningful relationships with the program and its facilities, for all who engage with it.
desktop: How about a plug for your favourite project from your team this year? Take us through the creative process of it. 
Johnny Boardman, designer, Frost*Design: Fresh out of Shillington College and with another packaging internship behind me, I was thrilled to be asked to join Frost Design as an intern joining the packaging team. I'm working on a project I can't say much about. What I can share is that it involves the redesign of product packaging across two ranges for a very high profile brand. I have been given the opportunity to contribute from the early development phase of the project through to final concept stage before market testing, so overall the experience has been extremely fulfilling and very well rounded. There is much to be said for working with highly skilled creatives.
Donovan [Anthony] has very high standards and has continued to question and challenge the brief to ensure the right approach is taken. Ultimately, this has led to a considered and contemporary outcome. Being in the company of some of Sydney's most experienced packaging designers has added to the positive experience. It's similar to being mentored when you're watching experienced creative minds operate. Pretty fantastic! Not only this, I've also had the chance to use my illustration skills for concept and final artwork.
desktop: What's the craziest thing you have done as a team?
Cat Burgess, strategy director, Frost*collective: It would have to be when the whole studio was picked up on Harleys and drove to Bondi Beach together. Good to get the adrenalin pumping. But another definite high was when we were all told to pack overnight bags for our Christmas party and had no idea where we were going. After a bus ride up to Newcastle we were treated to none other than Sir Elton John performing in the vineyards. It was a wet night so we were drenched by the time the concert was over (no umbrellas allowed) – partying in the mud always brings out the best in people.
desktop: There are smaller studios and design agencies sprouting all over. What are the top three things a studio / agency needs to be successful?  
Vince Frost, CEO Frost*collective:
Make sure you have a clear vision and a business plan to ensure you know exactly what your position is in the market.
If you are creative person you are likely to excel at design and struggle with the business side of things. Find a business coach to help you learn how to become a better business person.
Network at every opportunity. Be open and determined.
desktop: Your two-cents on how to maintain and manage a client-agency relationship.
Adam Longo, senior design manager, Urbanite: I have always had a simple philosophy in managing client relationships that has always seemed to work for me – treat it as a partnership. When a client comes to you for help with a particular problem and puts their trust and resources behind you in order to find a solution, to build the success of their brand or business, this should never be taken lightly. You should be as invested in achieving their success as much, if not more than they are. You're both working together to achieve the same intended outcome and it should never be seen as 'us' and 'them'. At Frost*collective we continuously go above and beyond what is required to achieve successful outcomes for our clients and it's these actions which drive successful client-agency relationships. It's more than a job; we truly care.
From the 5am installs we attend to ensure our designs are installed correctly, the late nights ensuring every piece of documentation is perfect, and the constant drive for finding the best possible solutions out of hundreds of possibilities – clients know they can depend on us. They know that we are as invested in finding the best solution for their problem, as they are. Whilst a project in our studio may only last a few months, the outcomes stand with the client for a lifetime. No matter the project size, budget or scale, acknowledging this reinforces the importance of finding the best solution to achieve success for our clients. Bottomline, it's commitment that drives and maintains successful client-agency relationships.
---
See more work from Frost*collective here.