How to: typography by hand with Kate Pullen
AUTHOR: Desktop

Published: February 5, 2015
Words by Kate Pullen
—
Scroll through my Instagram feed at any point in the last year, and what jumps out more than anything is the considerable growth in all things DIY, hands on, and craft-based. And no, I don't think this is due (solely) to my job as a designer and therefore the unnatural number of hipster friends in my circle.
Instead, I like to think of it as a kind of rebellion, against the mass production of goods and marking a certain craving for authenticity, individuality, even imperfection. Hand lettering is right on the front line, and the opportunity to master letterforms without a mouse or tablet continues to draw (ahem, I could not resist) a considerable audience.
Getting started is simple, and clichéd. You simply have to put pen to paper, because only practice will help grow your skills. A blank page can be pretty daunting however, so take time for inspiration and a little letterform appreciation. This may be via the net – Behance, Dribbble, Friends of Type – a book on typography, or finding particular artists that inspire those warm and fuzzies (try looking up Ryan Hamrick, Sergey Shapiro, Dana Tanamachi). Don't neglect external influences either. Make a point of seeking out typography in the wild, or even dig out an old handwritten letter; whatever the source, each piece was written with intention and carries with it an indelible artists' mark.
Once you have decided on a word or phrase, try experimenting with different tools. There are a bunch of brush pens around, and it's really up to you to discover which you find most comfortable, and which is most suitable for the piece you're creating. It doesn't need to be fancy. The dual- ended Tombows are great and allow for quite a bit of control, or if you would like something a little more paintbrush than pen, there's a Pentel refillable that'll do the trick. Visit places like Eckersley's or Melbourne Artists' Supplies and try a few out, or jump on eBay. Even Daiso stocks brush pens in a range of weights that aren't too shabby at all. Especially at $2.80! The next few steps will concentrate on a script piece and, even though you'll be drawing with standard pens and pencils, practicing with brush pens will only strengthen your letterforms, granting you a true indication of how tools influence letters.
It's always helpful in determining the piece's structure with a thumbnail, especially if it's script in style. This may not be as applicable with a one-word creation, but it's still worth considering a rough overall picture before you dive straight on to A3.
Try beginning with basic letterforms, developing the main crux of the piece, and then returning for swashes and flourishes afterward. While you're learning, have a look at how others create their letters, and then once you're a little more confident you can begin to experiment. Y'know, the whole learn-the-rules-so-you-can-break-'em kinda thing. Because, ultimately, even though stuff like kerning is still important, nobody puts baby in a corner and you can do whatever you like. To mix movie metaphors, it's pretty much Home Alone with typography.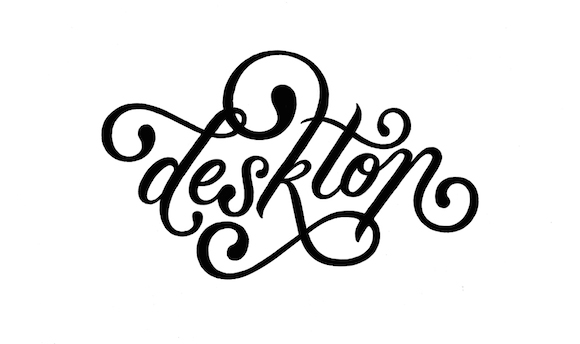 In my first year at uni, a lecturer was talking illustrative type and he said, as a general rule, always make those curves, flourishes and swashes bigger than you originally thought. Five years later and that piece of advice continues to stick with me, and it's a handy reminder when you're trying to inject life into a piece. It may also be worth experimenting with changing up with the baseline a little. The letters don't have to fit together perfectly, although at times it can feel like you're playing a particularly frustrating game of Tetris.
Sometimes you won't notice needed improvements until the piece is inked in, and this is where tracing paper becomes your best mate. It's also helpful to flip the page upside down so you don't see words, only positive and negative space.
Once you have the guts sorted, try out a little extra detail. For example, the classic box shadow, adding simple additional lines to the left or right of each letter allows for highlights, or employ stippling (just dotting, basically) instead of solid colour to create depth. Or could you maybe cut out slivers of the type where the letters connect, to make it appear as if they are interacting with each other?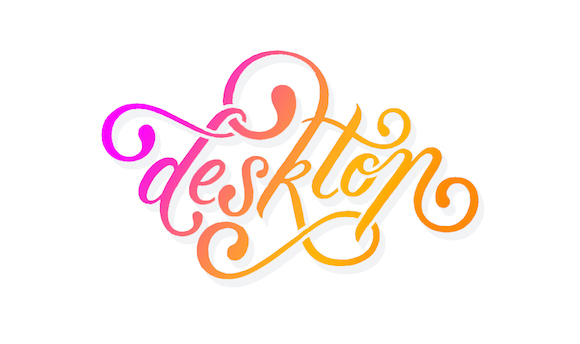 Finally, a high-res scanner is a kind of gift from the gods. You can take your newly-lettered piece into Photoshop and a) do a little spring cleaning; b) entirely shift the composition; or c) add colour!
—
For more of Kate's wonderful work, have a look here.