Inside the Glaushas
AUTHOR: Jo Spurling

Published: January 21, 2010
Peter Hoffman is one of those amazingly talented people that you discover quite by accident, but immediately admire. Hoffman is not only a wonderful illustrator, typographer and graphic designer, but he is also a tutor for drawing and graphic design at ecodesign/Akademie für Gestaltung in Cologne. Born in Koblenz, a small town near Cologne in Germany, Hoffman studied graphic design at the University of Applied Science Trier in south-west Germany. Nearing the end of his course he did well enough to obtain a Fulbright scholarship, which allowed him to spend a year in the US studying at the Savannah College of Art and Design in Georgia. Back in his native homeland, in 1999 he began work as a freelance designer.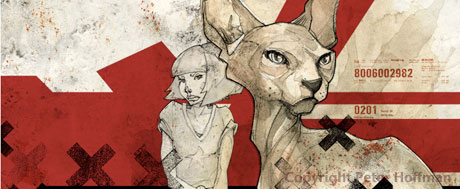 What drew you to the creative world?
Creating something from scratch, from the first image in my head to the finished product, is a process that I always liked. The actual motivation behind that is difficult to describe, but I guess a lot of designers and artists share a particular emotion. Louis Bunuel once put it this way, when asked why he made movies: 'To show that this is not the best of all possible worlds'. Despite all the setbacks and conflicts that come along with a creative profession, a vital necessity to express certain emotions through my personal and also my commissioned work still keeps me going. In this way, working in solitude and having access to the creative community at the same time has always been a pleasure for me, a condition I hardly see in other jobs.
Can you tell us about an instance in your life that has had a dramatic affect on your career/ life?
There are several situations that still have a profound effect on me, I just would not call them dramatic. They took place over quite a while or are still ongoing. My residence in the US was as much exciting as it was tough for me, I learned a lot about myself there, especially being a rather introverted person in a very dynamic world.
What is the design culture/ community like in Germany?
It is very vivid, especially in Hamburg and Berlin. A lot of domains have come together that isolated themselves before. Fine arts is mixed with graphic design and illustration. Especially illustration is booming right now, which is great – I remember a time when there was no market at all for commercial drawings. The lines between different scenes really begin to blur, which brings excitement and sometimes pressure at the same time: there are so many great talents around, I could rip my eyes out sometimes! In other cities, like Cologne, where I live, this fusion is not as advanced as in the really big cities, but it has started.
You have a very varied online portfolio – but which do you prefer/spend more time on – Design, Illustration or Type?
I used to spend more time on graphic-design and considered the illustrations to be more personal work. That changed in the past two years, and I am making more illustrations for clients, which I definitely appreciate. Working on typefaces is more some kind of meditation for me, I only do that when I have the time and when I am in the right mood.
You've done a lot of album covers – what do you love about creating for this format?
Oh, CD-packaging is a great vehicle for everything I like: illustration, typography, collage, weirdness,… Plus, they are usually short-term projects – I am easily bored by jobs that last longer than four weeks. Also I like working with musicians. When making designs for the corporate world, a lot of energy goes into politics, meetings and hierarchy. With CD-packagings I usually can avoid these barriers and openly discuss everything directly with the band. When there is some kind of rapport, I feel free to be more vague with my sketches, to go for a certain mood rather than a high-concept image.
Can you tell us about some projects you are currently working on?
Currently I am about to finish som CD packaging for an Austrian trombone player and for a jazz trio from Austria and Switzerland. Last week I finished a series of illustrations for the National Garden Show, which was a lot of work with a lot of details. In between I made a poster for a Frankfurt-based glam-rock band. Also right now I am booked by an agency to work on the design of a radio station. Phew! All of these jobs have one thing in common, by the way: I used Google SketchUp for most of the architecture in the illustrations. I never worked with a 3D-tool before and now I wonder how I managed to get along without it. Maybe it is just a phase, but it feels right!
What can we expect from you next?
Next week I am starting an illustration for a German hardcore band, the first briefing consisted of only one word: 'Zombies!'. Sounds great to me! While preparing for this job, I found out I really like drawing zombies, whenever the proportions are not right I just let this part of the body rot away.