Interview: Racket
AUTHOR: Heath Killen

Published: July 11, 2013
Rachel Peachy and Paul Mosig are are the personal and professional partnership behind Racket, an art and design studio that began life in Canberra, transitioned to Melbourne, and is now firmly based in Katoomba. Racket's work is an ongoing exploration of the colours, textures, history, and culture of Australia – the results of which are never predictable or obvious. In fact Racket's work belongs to an "other" Australia, one that exists in an atemporal space where recognisable aspects of the city and country sit alongside imagined ones. It's a collision of contemporary and traditional ideas, and a celebration of the sublime and beautiful that's found in the ordinary and everyday. Here Peachy speaks about the history of the studio and how they've managed to carve out their own unique place in the world.
Where did you grow up, and what are your memories of that place?
I grew up in Canberra and I remember a lot of playing in big green suburban backyards, under sprinklers with apricots off the tree, trips to the river, monkey bars, roundabouts, walking to school, being swooped by magpies in spring, walking along the storm drains, cookie cutter houses, predominantly English & European middle class people, feeling safe and like I could do anything but maybe like I was missing out on the excitement of elsewhere.
What about the first place you lived outside of the family home? Where was that and do you remember about it?
After I left home I travelled around Australia and overseas for a few years, so the first places I lived outside of home were on farms, in tents, in parks, on beaches, in a tiny apartment in London, in squats in Spain and hostels in India. All these places had their own particular qualities but were all very temporary for me and I think that's a part of why I have always been interested in having a long-term home base, a place where I could really appreciate the physical passing of time.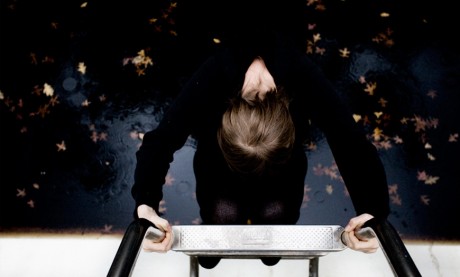 You and Paul met while studying at ANU. Can you tell me a little bit about the common interests that you both had around art and design?
When we first met our interests were actually quite different. I had no interest or knowledge about design, I was studying textiles, photography and science and my work was quite loose and ephemeral with a focus on the human figure. Paul was studying video and sound art and he had done some design and had a strong interest in it, his work was more technical and abstract. When we started working together there was quite a clash of ideas but we were also moved by similar things – natural phenomenon, historical narratives, found objects, a similar colour palette and over the years we have combined our various interests through our shared aesthetic to create work which really reflects us as a collaborative partnership.
What was the ANU "Field Studies"course that you were a part of?
Field Studies is a program run by John Reid, an amazing artist and facilitator. Each semester he takes a group of students and visiting artists from a variety of disciplines to visit a particular place – usually a small regional or rural town. While there the group meets with local people, indigenous leaders, scientists, rangers, councilors, artists and landholders. As well as gaining a variety of perspectives on the place, the group explores a variety of locations in and around the area. The artists then continue to research their own interests and take their ideas back to the studio at ANU. There are generally one or two further field trips back to the same town so that the ideas and artworks can be further developed or produced and then the finished work is exhibited in the town, sometimes in a gallery and often in empty shop fronts on the main street. There is also usually a second exhibition back at the ANU gallery.
Overtime the program has been supported by the Murray Darling Basin Authority and has been the subject of an ARC research grant to evaluate the impact of artist visualisations of community environmental concerns. From our involvement in the program over the years both as students, as visiting artists and as designers we have definitely come to appreciate this way of working and it has greatly influence our practice particularly in terms of our artwork.
I find Canberra to be a fascinating place. What did you learn about design from the place itself?
When you are in Canberra for any length of time I think you become acutely aware of the fact that it was a specifically designed place. It has a very constructed nature with an overt sense of balance and underlying pattern. The mass planting of European trees givens the place a sense of being hidden, especially when viewed from above. It has a clean, minimal spaciousness that is the antithesis of a busy, organically evolving city where you could turn a corner and anything could be happening. Its beauty certainly isn't flashy and takes time to appreciate. I think the Burley Griffin's design is really amazing, it's just a shame that many of the buildings and houses were built at a time when perhaps architecture and materiality weren't at their most engaging. In terms of design lessons for us personally, I think when we first started with design we really pulled away from anything like this type of aesthetic. We were really into texture and multiple layers with a lot going on. More recently we are more confident in what we like and have gravitated towards a simpler style that focuses more on form and a mindful balance of elements.
Did you find living there had much of a psychological impact?
I think so, especially for me as I was born and grew up there. It is the kind of place where as you get older you have to create your own experiences but unlike somewhere more remote there are lots of national institutions where you can view global examples of art and design which was particularly important in an age before the internet. Because it was out of the gaze of all that was going on in the city's it always felt like there was plenty of space to fail and experiment before going off to make it further abroad. Most people have a love / hate relationship with the place and I'm not sure I would go back there for quite a while but it also feels a bit like a shared secret and often find a lot in common with people who have also lived there and enjoyed it.
When did you come to Melbourne, and what brought you there?
We had recently quit our full time jobs – Paul had been a web designer at the National Library and I had been doing community arts at a youth center and we were just kind of hanging around on his parents property near the South coast of NSW, thinking about building a little shack there. I then fell pregnant and we thought we'd head to Melbourne, which is a bit of a rite of passage for Canberra Art school graduates. It's usually Sydney or Melbourne and Melbourne just seemed like a better fit for us.
What are some of your memories of Melbourne, and what made you to leave?
I think the thing we loved most about Melbourne was the endless possibility. It's the kind of place you can have an idea and act upon it with a pretty high level of confidence that it will work. We also made some pretty wonderful new friends and loved the busyness, the diversity, the people we ended up working with and eating our way through the amazing food to be found there. We left because we wanted to live much closer to a more wild landscape, we wanted more space for a garden, more people around us who had little kids and a house we could afford to work on. Racket was pretty sustainable by the time we left Melbourne but it can also be quite stressful when there is a lot going on, especially with the kids at home so we wanted to be somewhere where the general lifestyle could balance that out a bit better.
You're now living and working the from Katoomba, in the Blue Mountains region of New South Wales . What made that place the right fit for you?
Well it definitely has the all the things I previously mentioned and its closer to our families, which is a nice bonus. It's also near a big city so we can access all it's cityness and although it has the qualities of a small town, it doesn't feel at all remote. There are lots of foreign visitors, good food and lots of people who have recently moved from Sydney in particular, which means there are plenty of people around who we have a lot in common with. We both also really love mountains, moody cold climate weather, the mist and rock formations – it's our kind of landscape and a good place to go exploring for our personal work.
Now that you've been settled in for a while now, what are your impressions of the place – in terms of both community and environment?
We love it more and more each day and feel like we came at the right time for us. Although it's not like the overflowing everything that is happening in the city and you are limited by what people are doing up here, we are lucky in that it often lines up pretty well with what we want to be doing most of the time. It does feel like a place that changes in waves – in terms of European history anyway. Originally people came here to escape from the city and there were grand houses and wellness retreats like the Hydro Majestic and then at times it has been out of fashion and a place that is the next cheapest place to live from Western Sydney. At the moment I think it's going through another change, most of our friends have moved here in the last two to five years or have moved back after a long time away, they have come for similar reasons to us and see a lot of potential in the place. There is a feeling of excitement that there are more and more people around that appreciate the place for what it is and want to build really sustainable vibrant communities here.
Has your personal outlook on the industry changed much throughout these different transitional periods?
I think when we started out we were pretty intimidated and unsure about the industry as a whole as we never studied design and felt a bit like imposters. As we became more experienced we felt confident in our approach and are now pretty happy to keep going along, evolving our style regardless of what anyone else is doing, so I guess although we aren't intimidated anymore we still don't really feel part of the industry, as we are both pretty shy and have never really worked outside our own little partnership.
Your work has retained it's strong and unique look over the years, but I can definitely see a progression towards a more simplified and perhaps slightly more refined look. What have been some of the forces that have helped shape your very particular style over the years?
As I mentioned before when we started out our style was very textural and layered and concerned with ideas about Australia and it's history in a very narrative sense. We had lots of ideas and tended to explore them all at once in a single image. We were developing our own style of collage and pretty much used that technique as the basis for all our work. Over time we have become clearer about what we are trying to do, happier to let one idea have prominence or even an ambiguity, which can come with a more minimal approach. We have come back to a more simple style of photography and more graphic based web design as our primary practice and I think it's actually more in line with how we started before we were working together but at a more elevated level that was definitely influenced by our previous work. I think even though our work is now more minimal and more refined it still has an accessibility to it, it's not completely cold and academic.
Much of your work is an ongoing investigation into Australian history, as well as regional aesthetics and vernacular. Why do you think it is that we haven't seen more of this type of work emerge?
I'm not sure. Maybe historically most people who worked in the design industry or at least the people who were being written about worked in the city and were influenced by what was around them. It is possible that until more recently Australian creatives were in general a bit embarrassed by their history and youth and look elsewhere for aesthetic trends. I think if this was the case it is definitely changing though and would be interesting to exhibit or view groupings of work from different regions in Australia to see if there are any commonalities developing.
Your work has also often taken a critical point of view about Australian history and culture. Why you think we don't see more of this type of political engagement in Australian design, and more generally, what role you think design has to play here?
To be honest we are more familiar with art history than design history and in terms of the art world there has actually been quite a lot of critical engagement with Australian history. Maybe as there seems to be more and more designers who are also artists this is starting to change, although design still always depends on the message the client wants you to communicate.
Have you been engaged in any forms of activism beyond design?
When I was at university I was involved in direct action environmental activism. At that time I also had a lecturer in Human Ecology who was pretty amazing and I think he helped me to broaden my perspectives which were a bit narrow minded and overly idealistic really. For us at the moment we are interested in action through ever day life engagement. Like being involved with our local food co-op, food growing networks, local arts community, advising the local council, helping out at our kids school with reading, art and the kitchen garden, having conversations with people who have influence in the policy direction of government and as designers I guess one of the more political things we can do is decide who we will work for.
You appear to spend a lot of time in natural environment – how do you translate ideas gathered from the great outdoors into your projects?
Directly and physically using landscapes in our images or materials we have found both scanned and in three-dimensional assemblages. Being affected emotionally and intellectually by the stillness or the wildness or the order of things, the simplicity of natural designs and patterns, the cycles of one form to another, the almost unfathomable timescales, the way you feel when being in these spaces from the awe and elation to the exhaustion and the facing of the unknown.
How has starting a family kids changed the way you work, and more broadly, see the world?
It has made us more disciplined and made us try and conform to some type of structure, although it s something we still find difficult and are always trying to re-evaluate. We now have a separate part of the house where we can work which is good but as our youngest son is only one I still end up working late at night quite often and we have gotten pretty used to just floating on top of the chaos. When Sascha was young we used to bring him too meetings with us, which people were actually pretty nice about but two crazy boys is a bit much so we have tried to work out more traditional arrangements with careers and such. In terms of our worldview, I don't think it has changed that much really although I think our sense of our own mortality is more pronounced. I never really though about death until I had these really strong and present relationships that would so completely alter my life or theirs if one of us died.
What does the future hold for Racket?
We are currently working on a large solo show of new artwork to be exhibited at a beautiful gallery here. We are also starting a few new interesting collaborations including some ceramics with one of our neighbors and new digital projects with a brilliant web developer in England and with a digital company in Melbourne, which could have some really interesting outcomes. We are also doing video for some clients, which is something we haven't done for a long time even though we met when doing a digital video class at art school. In the future, future we would like to travel more, live elsewhere for a while, do more and more interesting collaborations with amazing people, design objects, spaces, fabrics, write and illustrate kids books, anything anyone will let us get away with really.
—
This article was first published in Desktop #294 — Making Places
—
Enjoyed reading this feature? You can find more like it inside Desktop magazine.
Take a look at this month's subscription special.