Profile: Create Design Awards Emerging Talent Miranda Mayne
AUTHOR: Desktop

Published: November 13, 2015
This year, the Create Design Awards had a record number of entries in the Emerging Talent category. Out of that strong pool of 200-odd submissions, Miranda Mayne's folio stood out to the jurors and she was crowned the winner for that category at our awards night.
Hailing from Perth, Mayne was studying graphic design in university and at the same time, took on as many freelance jobs as she could so that she could add on to her skill set. This led her to launch her own design studio, Mira Design, when she was in her first year in university.
_
Mayne, however, did not find university to be the right path for her and cut her study short. She arrived in Melbourne to further develop her skills as a designer with Shillington College.
desktop caught up with Mayne to find out more about her and the passion she has for the industry.
Firstly, congrats on the win. You must be psyched. Do give our readers a little background about yourself. 
I studied at Shillington College in Melbourne, graduating earlier this year. Shillington is such an incredible college, and I was really impressed with how they structured their course and how they based their teaching on real-life briefs. The class was set up like a real-life studio and we were treated more like junior designers rather than students. The course really stretched me as a person and as a designer.
I was just out of high school and looking for direction and growth. I had been freelancing for a year and I knew my work wasn't where I wanted it to be and university wasn't getting me where I wanted to go. I was really looking for something a little more structured to the real world, something that could push me creatively as well as prepare me and engage me with the industry.
Was design something you wanted to pursue from the get-go?
I have always had a soft spot for design and have always been aware of it. I was that kid in school that was constantly scribbling in their notepad and creating weird things. I struggle to verbally communicate things sometimes, so the ability to communicate visually is a gift I will always cherish. I think that's why I value design so much, as it is this output for emotions and feelings that sometimes words alone cannot express.
You took a bold plunge and opened up your new studio while in university. Tell us more about your studio and what made you decide to make it on your own.
I actually started up Mira Design back in 2012 in my first year of university. I knew I wanted to be a designer and eventually open up a studio but it felt like I was learning more outside of university with my clients than I was in it. So, I thought what the heck – what am I waiting for? And made the bold decision to stop university and just focus on learning through experience and from people in the industry. I tried to take on as many freelance jobs as I could to keep adding to my skill sets and I haven't looked back since. My focus has always been and always will be on learning and growing in this passion I have.
What were your first few projects like and how has that evolved now?
It's always funny looking back on my first few projects, because I was self-taught and had no idea what the heck I was doing. My first jobs were mostly branding gigs, picking up small local fashion labels, album covers, small businesses and of course invitations for family and friends! There is a huge sense of pressure when working with your first few clients because you're diving into the unknown, but all you can do is jump in with both feet and be comfortable in making mistakes – because they're inevitable!
One thing that has definitely evolved since I first started is the value of concept-driven design and how important it is to be intentional with every element within a project. I believe great design is the harmony of concept and form.
What are some of the challenges you face as a young studio owner? How do you overcome them?
Something I really struggle with is the desire for everything to go perfectly – as a creative you put a huge amount of pressure on yourself. This results in fear and a difficulty to get out of your comfort zone. So this is something I am constantly aware of. I always try to pull myself into new situations and push myself out of my comfort zone 
What are some of the important lessons you've learnt about the industry and about running a design studio?
1. Network – Be constantly engaging and meeting new people. Get involved as much as you can with the design industry.
2. Always be learning – It is so important to keep pushing yourself to learn, grow and improve, and to focus on the learning and not so much the outcome. In other words, "don't seek praise, seek criticism".
3. Get off the computer – Value the concept and don't undermine the importance of concept development. The computer should only be a tool to execute your ideas; you will always find a solution faster with paper.
4. Don't be afraid to fail! – The best way to learn and grow is to make mistakes and to experience new and different things outside your comfort zone. Do not underestimate how important "failure" is to design.
5. Experience is influence – Don't just look within the context of design when seeking inspiration. Go out into the world and experience as much as you can!
What is your favourite project from your own body of work and why?
One of my favourite projects was my Dead Good chocolate packaging. The brief was to design a product and packaging that appealed to a specific demographic. Each student was given a different demographic along with a product, and I was given "chocolate for bikies". This brief stood out from the rest for me because it really pushed me out of my comfort zone. It took a lot of research to wrap my head around the visual language surrounding 'Bikie Gangs' and go beyond the expected outcomes.
The teachers made us focus on developing a unique story behind each product, which was an approach I had never taken before. My product revolved around the the idea that the chocolate was produced underground and was poisonous or dangerous to eat.  I experimented a lot with different illustrative techniques and mediums, referencing home-made tattoos, materials and colour palettes often associated with the bikie culture.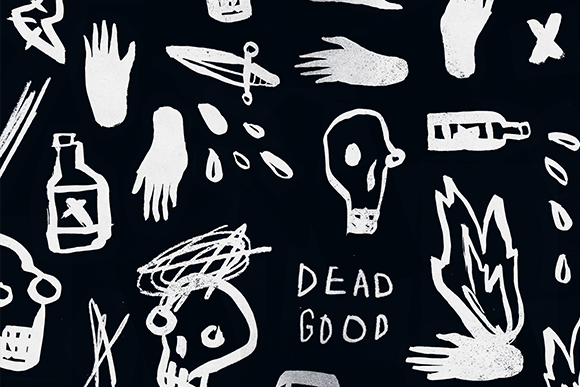 What are you working on currently?
I've been doing a lot of branding work at the moment but anything and everything really; animation, video, website, print, fashion design you name it! 
And, lastly, what's the best way to fight a creative block?
I think by following a creative process can help you avoid a creative block all together. Never underestimate the value of the concept development phase, make sure you fully uncover and understand the clients' problems and the projects objectives before you jump into the visual language of the design. You can do this by using different idea generation techniques (word association, mind mapping, brainstorming etc). I also think getting external opinions is essential to the creative process – "don't seek praise, seek criticism".
If  you do feel like you hit a wall creatively, like I said previously experience is influence. Look outside the context of design for inspiration; listen to music, go to new places, explore other creative industries, just experience new things! This will refresh you creatively and inspire you.
_