Profile: Re:collection
AUTHOR: Brita Frost

Published: November 6, 2011
The labour of love defines the graphic designer – allowing a practice to develop in often unexpected ways, it also contributes a certain dynamism to Australia's design culture.
Over the coming weeks eight labours of love will be profiled.
Founder: Dominic Hofstede
recollection.com.au
A much needed online archive of Australian graphic design from the 60s, 70s and 80s, Re:collection is the work of Dominic Hofstede. He has sourced some exceptional work from this period, and while, as he points out, it may reflect his own very personal and subjective taste, it has nevertheless attracted a national following.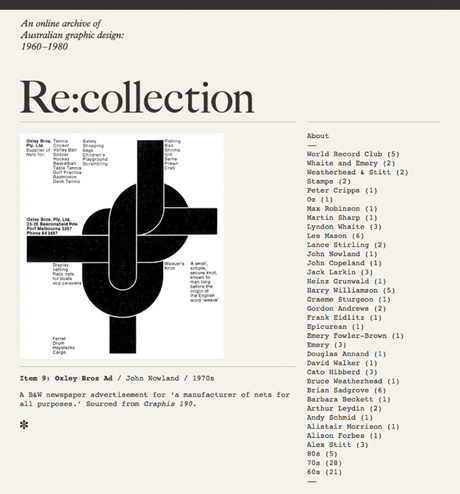 What prompted you to start Re:collection?
It seemed extraordinary that there was so much material available for any number of European or American designers, but virtually nothing existed about our own.  When Les Mason passed away with barely a ripple in the industry, I felt compelled to do something. Re:collection was a simple and direct way of getting the work of pioneers like Mason out to a broad audience.
Have you faced any difficulties putting the website together?
The site was designed quickly and uses a basic interface. I needed something that could be updated simply, but with the capacity for a range of content. The main difficulty is sourcing material, particularly good quality imagery. Many of the images are scanned from old books, so there is often an issue with quality. The screen is very forgiving in this sense, much more so than print.
How rewarding has the project been for you?
Personally, it has been a valuable educational experience, but perhaps only superficially. By that, I mean the work of the designers is more familiar to me, but I haven't been able to find the time to do real research, conduct interviews or write articles for the site. Perhaps the most significant spinoff from Re:collection was an exhibition of Les Mason's work for Epicurean magazine I curated with Warren Taylor at The Narrows late last year. The associated catalogue documents all 77 covers of the magazine, art directed by Mason and remains the most significant manifestation of my interest in this period of design.
How important are labours of love to design culture?
It seems to me that non-commercial activities, such as documenting and exploring the culture of our industry, are essential to its development and maturity. It is easy when working in commercial graphic design for the year to slip past building a folio and a bank account. I reached a point a few years ago where I felt really empty, devoid of motivation, and I think personal projects can help to address this melancholy.
Any words of wisdom for those wishing to pursue a labour of love?
I guess specific to a project such as this one, I'd try not to be so naive if I was starting it again. I had an email from an extremely distinguished and significant local designer berating me for not including his work on the site. I was amazed that he would even care, but it made me realize perhaps that people might be starting to take the project seriously. I hadn't really planned for that.
From desktop magazine.