Q&A – visual artist Maya Hayuk
AUTHOR: Lisa Marie Corso

Published: November 22, 2011
Maya Hayuk is a multi-skilled artist, famously known for her larger-than-life murals which have appeared everywhere from her native USA to The Netherlands, Brazil, Belgium, France, Spain and China. As part of Sugar Mountain 2012, Maya will have an opportunity to add one more country to her continental scrapbook – Australia, where she will be recreating the entrance of Melbourne's iconic Forum Theatre. We recently chatted with Maya about being a public artist, her upcoming collaboration with Kyle Ranson and how she is looking forward to using the term "down under" legitimately.
While most people grapple to perfect one art technique, you seem to have tackled and conquered most, working as a muralist, painter, illustrator, photographer, printmaker and musician. As a multidisciplinary artist, is there one method that you favour above the rest? Or alternatively, an area that causes you the most grief but is most satisfying?
Wow, thanks. Well, nothing would exist without the other. I can't imagine not doing everything I do because it's all one thing to me. I also love to cook and ride my bike and study maps and I'm learning to knit and I practice yoga and I want to tend a garden someday. This is all one thing. Imagine a painter being told, you can paint, but you shouldn't draw because you are a painter or a musician being told she may play the tuba but not the french horn. You get my point. The only real grief I experience as a result of this way of being is that I feel like I am always running out of time.
Can you tell us a bit about your creative process?
Sure! My hands are always dirty, I hate alarm clocks and I'm a total insomniac. I never get everything done that I like, but I always learn something unexpected. I don't plan out what I am working on too much, because then it feels done and therefore I don't see the point of actually finishing it. My dreams, the news, music and my boyfriend, Andrew, are the greatest sources of inspiration to me. I rub my eyes a lot and I stare more than I actually paint, but then once I'm painting, I'm painting fast.
For Sugar Mountain you will be recreating the entrance of Melbourne's Forum Theatre with Kyle Ranson. You two have worked alongside together before, will this make the creative partnership easier to navigate? Do you regularly collaborate with other artists?
Yes, I'm super excited to be working with one of my best and oldest friends. Collaborating can be as intimate as you want it to be, though you never know what another person's breaking point or limit will be, this applies to their stamina as much as their sense of humor. Luckily with Kyle, we've got each others backs and we're like family, but a respectful family. We also know each other's languages creatively and have been huge influences on one another over the years, so it's the best kind of collaboration: psychic, thoughtful and super hilarious. I have been collaborating with other artists forever and it's been a major key in teaching me how to listen to what the painting has to tell me, whether I'm collaborating or not.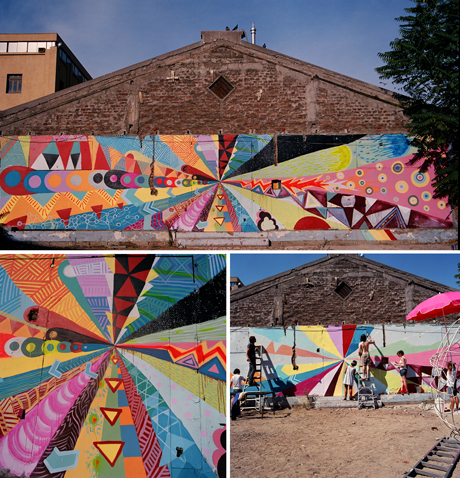 Can you give us a taste of what to expect for Sugar Mountain?
We're both really into heads and mouths and eyes and building space and weird color and psychic soulful weaving shit. That's what we know so far.
What preparation goes into producing large scale content, like a wall mural?
I start by considering the surrounding environment, placement in the architecture and what the viewable vantage points might be. It's important to ask: What belongs here? What's missing here? After dreaming big, the rest always seems to be a negotiation of what I'd like to do with what is actually possible. The rest of the preparation is the same as a any project: gathering materials and making the timing work.
Will this be your first time traveling to Australia? What are you most looking forward to?
I've wanted to see the Great Barrier Reef for as long as I can remember, but I don't think that will happen on this trip. I do want to shake hands with a kangaroo, a dingo and a koala bear. I am actually just very seriously excited about all of these projects I'll be working on and I'm psyched for the summer. I'm also really into those chewy ginger gummy bears from Australia. Oh, and sincerely look forward to being able to say the words 'Down Under' in a sentence unironically.
One of my favourite on-going projects of yours is THIS WALL COULD BE YOUR LIFE, but was sad to hear Monster Island/Secret Project Robot where it's located is being demolished. Do you have intentions of relocating the project?
Aaw thanks. Me too. Secret Project Robot will live on and their new location isn't far from my new studio in East Williamsburg. But, I will have to pour paint elsewhere, since none of us are currently renting in paint-pour-friendly establishments.
Being a public artist, knowing that your work will be displayed temporarily, how do you feel when your work is covered with something else?
Lucky that it got to exist at all. Really, name something that lasts forever? I'm not trying to get all esoteric or anything, but it actually feels liberating knowing that the time that a painting is alive has a perfect little moment in our personal histories and it can't be bought or sold. So, if you got to see it one day on a day you weren't expecting to or someone sent you a photograph of themselves with one of my murals behind them, then it's actually weirdly and beautifully eternal.
Does this just come with territory or do you have an emotional attachment to your work?
Yes it's part of the nature of public work and of evolution and yes, I'm emotionally attached to my work. I always kiss them goodbye before I go.
In three words how would you best describe your work?
I love you.
You can see more of Maya's work here or view the Sugar Mountain Festival Program online here.
All images copyright by Maya Hayuk.