Raph Rashid – Beatbox Kitchen + Taco Truck
AUTHOR: Alison Copley

Published: August 15, 2011
If you live in Melbourne, you would no doubt have spotted Raph Rashid's Beatbox Kitchen, and newer venture, the Taco Truck, gathering a crowd at certain events, festivals and hotspots each week. The hugely popular food trucks stem from Raph's determination to recreate classic street food, presented in two carefully crafted and hand-painted trucks.
desktop chatted to Raph about the concept and design of his two food trucks, collaborating with (his wife) Beci Orpin and working on the recent New Balance project.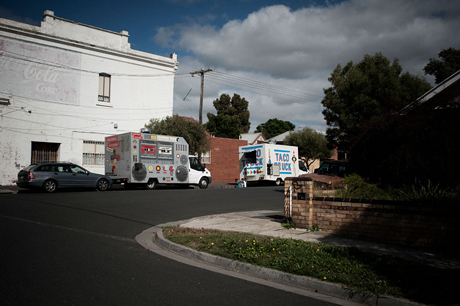 Over the last sixteen years you have been involved in the photography, fashion and music industries and now also own two food trucks – Beatbox Kitchen and Taco Truck. Where did the initial inspiration come from to create Beatbox Kitchen?
The inspiration for the Beatbox came from a few different places. With regards to the burgers I guess all of my travels around the US and constantly looking and searching for classic burgers and diners really got me inspired to work on creating a great burger. In regards to the name I was really just thinking it would be good to try and incorporate an 80s beatbox into the art somehow, then the name just came out of that.
What brief did you set for the exterior design of Beatbox Kitchen and who did you get involved to design it?
I did the beatbox with Beci. Beci asked me to create a series of inspiration boards for her, I have always just been a verbal communicator so it was good for me to start from a new place.
The boards that I created for her included everything from the colors I had in mind to descriptions and photos of the food I was planning. I showed her a bunch of the classic boomboxes that I really loved from the 80′s and just felt the graphic needed to be fun, bold and bit ridiculous.
Were there any challenges involved during the design phase?
Our main challenge was not being able to really mock it up at full scale. Unlike a t-shirt where you can use a print out to work on the scale on a tee, we didn't have that luxury, plus we were still finishing the build of the truck so there was still some unknowns to the final finish.
You've also recently started the Taco Truck. Where did the inspiration for Taco Truck's design come from?
Well the taco truck was actually pretty hard. I know that it doesn't look it but Beci and I had a lot of back and forth and we worked on concepts for months before I was happy.
My main source of inspiration came from the hundreds of taco stands throughout Mexico and the US. All of the neighbourhood stands have so much soul and the way they become pillars in the community is amazing. The hand-painted signs and menus were the biggest inspiration.
You called on an old-school signwriter called Max to paint the truck for you – why did you choose this technique?
I got Max because I really wanted the truck to be painted by hand, there is just a certain charm that just cant be replicated with vinyl. The art of sign writing is a really special one and whenever we have the opportunity to use it we always call Max.
You're married to designer Beci Orpin, who you've collaborated with before. Any future collaborations/projects planned which we can look forward to?
At the moment we are working on a couple of new projects, the only one that is getting close would be the rebranding of our rooftop location at Curtin House.
Many of your philosophies were captured in the recent New Balance NB574.com project. How did you get involved with New Balance and what did you take from the project?
New Balance just called me one day and basically just wanted to follow me around a few times for a couple of months. I have always thought that New Balance was a great company in regards to their ethics with workers, plus I dig on the shoes. The photographers Louis and Josh where super cool and since the campaign I have started working with Josh a lot more. He just has a great feel for photography and knows what I am looking for.
Follow the Taco Truck and Beatbox Kitchen online to see where they'll be appearing next.
All photography copyright Josh Robenstone – taken from NB574.com.