Starting a start-up with Pozible's Rick Chen
AUTHOR: Desktop

Published: April 27, 2015
Rick Chen, co-founder of Australian crowdfunding platform Pozible, talks through the process of transitioning from creative practice to entrepreneurship, and trying to maintain a balance between the two.
—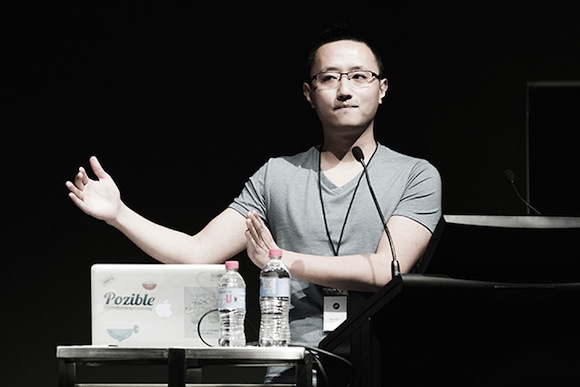 Know your strengths
I believe you should be doing what you are good at, rather than trying to shape yourself to fit into a position. Running a business is the same: do the bit you are good at and leave the rest to other people. At Pozible, my co-founder Alan [Crabbe] does the numbers and budgets a lot better than me, so I leave these to him. A good co-founder is so helpful.
Every problem can be solved, every resource can be found
You definitely need the tech bit of the thing from the beginning: designers, developers and people who can get a prototype happening. Alan and I, being from a design and development background, already had the skills to get the project off the ground. We knew what we needed to launch the platform. It was all just our time. We had an external developer from time to time, but otherwise it was just my co-founder and me, which helped with costs. We didn't write a business plan – we had everything in our heads.
The marketing and strategy side of things was more of a learning curve. But when you sit in front of your desk every day and try to figure it out, I don't think it's actually a very difficult thing. You'll realise what you need to do, and you'll figure out that if you want to do A, you need to do B, D and C to make it happen.
So mostly, just go make it happen. Pull the resources you need and get the job done.
Timing is key
If you're not embarrassed by the initial product you have launched, you're too late. Launching into the market and fixing things along the way is much more important than trying to make the product absolutely perfect before launching it. This will only delay the time-frame, and you may risk losing the market to competitors.
And there will never be a point when the development stops
For non-tech founders: there will never be a time when your outsourced development team finishes the product and hands it over to you. Online platforms and products require as much attention and power to maintain as they do in the initial stages of development, so prepare for it. You will not be able to live your life without the support of your development team.
Stay on top of innovations, and know when you need to make changes
I'm so deeply integrated in the online IT start-up/design-y world: it's my professional work and my personal work and my lifestyle. So I naturally come with that [instinct]. The evolution just kind of happens. It's a very subconscious kind of thing.
Probably don't fly solo
One of the things I learned is that there are a lot of people who love to get things done completely by themselves. They spend a lot of time trying to learn coding, trying to learn design, trying to learn marketing and then they try to apply those skills to the business. It's good in a learning sense, but for the business it's a very slow process and it's not very sustainable. Becoming an expert in every field doesn't seem quite possible in a way, or as effective. It's important to know how to collaborate with other people and use their talents to help yourself.
Stand on the shoulders of giants
Scaling a start-up is a natural need for the company after launch. With Pozible we tried to get partnerships and build our presence from there. We pretty much tried to partner with everyone in the creative industries – from government organisations to grassroots communities. We now have over 70 partners in Australia, including festivals and all sorts of different things. Basically, we look for people who have a creative community that may positively benefit from our platform. Think about profile and potential outreach, and places that will understand what you're doing.
Know your market, test things out
It was a difficult process building partnerships, but we were lucky with Pozible because we were the only ones playing the game. We were trying to fill the issue of money and funding in the creative industries and no one else was in the water except for government grants. There was no other way of getting money for these fields. When we launched we had a lot of natural attention, because it was what people really wanted, and the creative industries were starving. So we got a lot of support from the general community, and we built big partnerships from there.
Test every potential channel for ROI (return on investment) – you never know which may work. Collect all channels and test them with the same resources and see which deliver better results. Once you know which channel works best, pour all your resources into that channel.
Bootstrap
Bootstrapping your start-up means you focus on the most important thing, instead of being distracted by where and how you need to spend all the money. Try to focus only on your core business to start with. Leave all the functions that are 'good to have, but not absolutely necessary' for later. Launch with it and test your market.
Find a revenue model as early as you can. (Note: advertising doesn't count as a revenue model for early start-ups; it should be something that's unique to the core of your business model and makes money.)
Expect to work hard…really hard
We don't really have working hours. Every hour is a working hour. Working hard is the foundation of launching a company like this.
When we started Pozible, I would work from nine to five alone in our office and Alan worked a full-time job. He gave me half his wages, and after he finished his job he'd come meet me at our office and we'd work until at least 11pm. We had a few 4am mornings too. Now we tend not to do too much overtime, but it's always in the back of your mind. It's always there. There's no cut-off; it's all interconnected. A few months ago we launched two offices in China, and because of the time difference I'm on call for support after hours.
And if you value a work/life balance?
Maybe don't start a company.
Nah, there's definitely a way of doing it and, to be honest, we're probably a little bit strange at Pozible. But if you plan well you can maintain a balance and in fact that's a more healthy way of doing it, to avoid burning out.
Keep your community updated on what you do
Be aware of the frequency, find ways to engage with them, but don't spam. For a creative project, just have fun along the way and maybe do another Pozible campaign for your next project.
—