Studio profile: BMF
AUTHOR: Jo Spurling

Published: December 29, 2010
Tomorrow the world
In July 2009 BMF was ranked 16th among the world's creative agencies by The Won Report, which, considering Australia as a country was ranked fourth in the world, is no mean feat. As far as creative directors then go, ranked at number 15 in the world, which incidentally equates to being Australia's number one creative force, was BMF's own Simon Langley.
It's a crazy time of year admits Langley as Desktop catches up with him, something we deadline afflicted understand all too well. Nevertheless, Langley happily submits to our questioning with courteous good grace.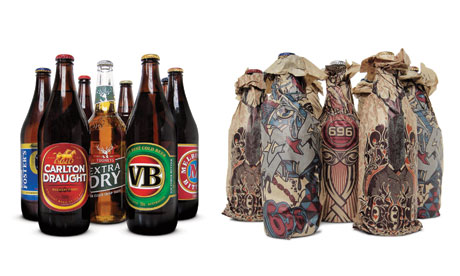 After obtaining a bachelor of design in Adelaide, Langley went on to work as a graphic designer before taking advantage of the AWARD School program. This then led to his first job in advertising in Melbourne in 1996. Langley's career has since snowballed, with many individual awards now credited to his name. "I worked in Sydney at Mojo Partners, and in London at Abbott Mead Vickers BBDO, before returning to Australia to work at BMF in 2004," he says. "I was promoted to creative director in 2007. So far I've won awards at all the major international shows, including two D&AD Yellow Pencils, several Cannes gold, silver and bronze, One Show gold and silver, gold at British Television and London International, and numerous local awards. In the past year, BMF has alsowon B&T Agency of the Decade, B&T NSW Agency of the
Year, Campaign Brief NSW Agency of the year and AdNews magazine campaign of the year."
Founded in 1996 by Warren Brown and Matthew Melhuish, BMF set itself the goal of being a 'world class agency that happens to be based in Sydney'. Warren and Matthew had worked together in London at creative agency BBH, which had managed to strike the difficult balance of combining fantastic creative work with a successful and profitable business. On returning to Australia, they felt there was an opportunity to create a similar environment and culture, so they went out on their own with that goal," Langley explains.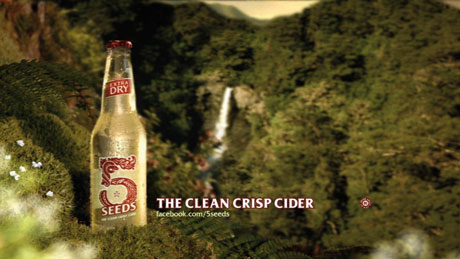 Humour is an ever-present aspect of BMF's work and they're not shy about making fun of 'local' stereotypes either (for example, the Sam Kekovich lamb ad campaigns, which paint 'typical' Aussies as loud, brash, but straight-up meat eaters). This concept of fun is also how BMF presents its staff to the world, with co-founder Warren Brown's 'alter ego' on the BMF website being a Taxi Driver, Travis Bickle-like character. Yet Langley is quick to point out that BMF doesn't have a 'style' as such, but rather thrives on the diversity of projects it tackles. "BMF is part ad agency, part digital shop, part direct marketer, part promotional agency [and] part media agency with a common goal of creating big, sticky, converged ideas. Ideas that stick to every person our clients have a relationship with, be they a consumer, an employee or a business partner," says Langley. "We don't specialise in a particular type of creative. We have a 'house standard' not a 'house style', and we're equally comfortable and passionate about creating a 20-tonne sculpture or a digital application, as we are a swing tag or a TV ad. It all depends on what will best do the job. We're a collaborative agency with a belief that anyone from any department can have an idea, or make one better."
To best take advantage of this flexibility, we ask Langley how he would describe the perfect client brief. "The briefs that lead to the most original and exciting work are ones where the planner hasn't just found a great insight, but taken a creative leap before it gets to the creative department," he advises.
"When this happens you have a more original springboard for the creative, which will ultimately lead you to fresher and more fertile areas. The best planners are very collaborative and involve the creative teams early in the brief writing process to arrive at an interesting place together."
One of BMF's campaigns saw one of its longtime clients, Tooheys Extra Dry (affectionately known as TED), taking a punt on a brand new beverage offering. Now, for a well-known brewer, releasing a new beer may not be a huge leap of the imagination, but releasing a completely new product offering, in the form of an alcoholic cider, into an already popular market, could spell danger. BMF took it in its stride, however, bringing to the table an original creative that looked at what life might be like if humans had not reached the 'apple of knowledge' first. "5 Seeds was a new cider to be launched under Tooheys Extra Dry, which we've had [as a client] for many years," says Langley. "The brand has a history of pushing the boundaries creatively, so it was a fantastic opportunity to shake up the category and change the perceptions of cider being an old man's drink. Where we landed was the disturbing thought: what would it have been like if another creature had eaten 'the apple' [from the biblical story of Adam and Eve] first? From here we developed the campaign  'Birds Vs Humans', [in which] birds ruled the Earth from the trees while humans were left to forage in the wastelands below for scraps. It was a huge project shot in a forest just out of Queenstown (New Zealand) where The Lord of the Rings was filmed, and brought to life with special effects by Fin Design. There were also online interactive films and a game."
Given his admiration for Tooheys' willingness to try something different, it's no surprise then that one of Langley's favourite campaigns is also for TED. "My favourite project would have to be the TED696 project to launch the Tooheys Extra Dry 696-millilitre longneck. It's a great example of the way we work at BMF. The brief started out as a venue ad (bathroom poster), but we felt there was a bigger opportunity to do something that would engage the target market of 18-to 24-year-olds. We ended up creating a new media channel – the brown bag – and what started off as a simple poster turned into a fully integrated idea that touched nearly every department in BMF. Internationally renowned artists Shepard Fairey, Demote and Luca Ionescu were commissioned to kick off the campaign, with each artist designing their own version of the TED696 brown bag. These were then used as a call for entries to the design community and the public to create their very own brown bag, with the winners announced at a party at the MTV Gallery in Sydney."
Before we leave Langley to return to the madness that was in the lead-up to the New Year, we cannot resist asking the million-dollar question: what ingredients make for a successful creative? "We believe the best ideas are populist and fresh. It's quite easy to be fresh and only appeal to a niche market, and similarly the other way, it's easy to be populist and dull. When you combine the two, you have an idea that will get everyone talking about it and stretch into every nook and cranny of the media landscape."
Now go forth and ponder!
All images copyright BMF.

From Desktop magazine.