High-end visual effects (VFX) and three-dimensional animation studio Iloura has come a long way since its humble beginnings in the late eighties as a quaint boutique post-production house in Port Melbourne, focusing solely on television commercials (TVCs). "Iloura what?" you say. It's an Aboriginal word meaning a peaceful place by the sea and I can assure you, you've definitely seen the fruits of its work – whether it be in Hollywood blockbusters like Charlotte's Web and Australia or in its impressive portfolio of TVCs for clients including Heinz and Cadbury.
Visiting Iloura's South Melbourne studio is an incredible experience. Set up in an old butter factory, the space is a rabbit warren of production rooms, buzzing with the excitement of varied teams, who are only too happy to face a challenge and thrive on producing world-class work. Most of this magic happens in a huge common studio space, which houses an array of animators, compositors, technical directors and designers – all hard at work on several different projects at a time. Very loosely, this space is divided into 50 percent film work, 25 percent TV work and 25 percent design work. With a crew of around 60, their combined software arsenal includes After Effects, 3D Studio Max, Maya and Nuke, running on a combination of Mac and PC computers. Add to that Iloura's on-site rendering capabilities, which support the entire studio, and it's clear that these guys are set up to deal with pretty much anything that's thrown their way.
Iloura's head of VFX, Ineke Majoor, has been through it all since joining the team in 1990 as a facilities coordinator, following a career path that has evolved from producing VFX and design for TVCs through to finally ending up on the feature side of things. Originally qualifying as a media studies teacher, Majoor had her eye turned towards giving the film industry a shot after a bit of the good old George Lucas magic touch. "I always had an interest in cinema and loved science fiction from an early age," she says. "Star Wars seemed to really answer both these loves and so on seeing it the seed was sown. There aren't a lot of opportunities in Melbourne to pursue this line of work, so I feel quite privileged to be in the city I want to live in, and to be doing the work that I love."
When working on Spike Jonze's Masterpiece Where the Wild Things Are in 2009, Iloura took on a massive role – not only being assigned the performance of the goat-like character Alexander and later wild thing, Judith, but it was also involved in the research and development (R&D) of the film. The team set up offices on location at the Melbourne Central City Studios and started getting on with the work ahead of the them. "Iloura's involvement began with the shoot, prevising scenes and helping to develop  the original character animation pipeline. As we were involved in the project early on, we were able to engage with the puppets in a direct and tactile way, which gave us insights into the technical requirements of the animation process," explains Majoor.
On-set, Iloura assisted in the pre-visualisation and pre-comping of shots as well as the testing and implementation of the three-dimensional pipeline, which up until then had been more conceptual than practical. Being on the set was a huge bonus for the R&D team as well. "It was very beneficial to be able to contextualise the shots with how they actually got filmed. It also helped because we were able to gather data, textures and other references immediately with our post-production tasks in mind. The wrangling of camera data was also vital and was captured with the knowledge of what was needed so we could make up a relevant library of data to help us process the shots more efficiently," Majoor says.
During the shoot, markers were placed on the giant Jim Henson's Creature Shop-created puppet heads for the purpose of three-dimensional tracking during post-production. Then, digital three-dimensional models of the heads were created and tracked onto the puppets, to be later animated with the character performance. Sounds pretty straightforward, right? Don't forget, however, that the 'wild things' have fur, and lots of it, setting another challenge for Iloura's team of skilled animators. To recreate lifelike and photorealistic fur, detail was taken from the live action footage and then projected back onto the digital three-dimensional models to help the computer-generated elements look believable in the final footage.
For those of you who have seen the movie (and if you haven't, go and do so because it really is incredible!), you'll recall that the wild things are not your standard monsters and are actually quite vulnerable and almost manic depressive throughout the film. To convey such emotion onto the puppet faces, Iloura referenced footage of the voice actors performing the dialogue in a studio setting in New York. "The actors weren't just reading the voices into isolated microphones," says Majoor. "Instead, they were all together and really interacting with one another – feeling the dialogue as though they were in front of a camera delivering the performance. We were then asked to get some of that human performance into the puppet performance, as the actors had conveyed the emotion so well and so poignantly."
During the entire shoot director Spike Jonze and animation director Daniel Jeannette were extremely particular in requesting to view the progress shots at a very high quality, which led to Iloura developing a plug-in for Maya to enable real-time feedback on plate projection. Jonze, a newbie to the world of such involved and complicated post-production, was readily able to communicate his vision for each scene and the emotions that were to be portrayed. "It's far better to have a director who knows what they want – even if this can't be expressed in visual effects terms," Majoor says of working with Jonze. "If we can get an understanding of the look and feel by reference and comparison, or even by great descriptions of the emotion of what is wanted, then it is very much our job to interpret that and make it work."
After 12 long months working on the shoot, Iloura proudly delivered around 40 character shots before the project was temporarily placed on hold while the film studio sorted out some story issues. Yet since the epic journey that was Where the Wild Things Are, Iloura has kept itself extremely busy, working on some pretty exciting projects, which were seen over the remainder of 2010. First up is the World War II mini-series, The Pacific, airing on Channel Seven. Produced by Steven Spielberg and Tom Hanks, and from the creators of Band of Brothers, this epic was mostly filmed in and around Port Douglas, Queensland and in Melbourne.
Iloura worked on all but one of the 10 episodes, producing a broad range of VFX, including removing tattoos from actors' bodies and creating computer generated bugs and snakes. The Pacific also included one of the most challenging shots Majoor has worked on in her entire career. "When you are dealing with a 1400-frame shot that involves a moving camera, has 90 percent computer generated elements and then you need to change the time of day on the live action element in post… well, that makes for pretty tough shot."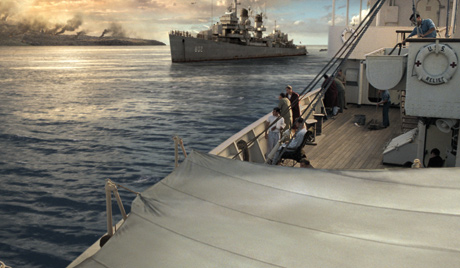 Iloura also worked on the Guillermo Del Toro (Pan's Labyrinth, Hellboy) produced, character driven feature Don't Be Afraid Of The Dark, starring Katie Holmes. This saw Iloura developing a massive 260 shots, most of which involved character animation and integration of the creatures with live action footage.
The team have finished up work on their first (and one of Australia's first) stereoscopic (three-dimensional) dramatic feature film, the James Cameron directed Sanctum, and also worked on Tomorrow When the War Began, the 2010 film based on the book series by John Marsden.
Thumbnail image: SBS TV ident, Indo nursery rhyme

All images copyright Iloura.
From Desktop magazine.