Studio profile: Leo Burnett
AUTHOR: Jo Spurling

Published: December 26, 2010
An apple a day
It's August 1935 and fledgling creative agency Leo Burnett has just opened its doors for the first time. The aftermath of the Great Depression is still being felt throughout the world as companies attempt to rebuild their fortunes and the population at large their lives. It's a heady time of no guarantees and an abundance of uncertainty. As a gesture of hospitality Leo Burnett has a bowl of apples placed in the reception area of his offices, which when viewed in the context of the era takes on even more significance – the average wage of the time is only $1500 a year. By 1939 Leo Burnett has landed his first milliondollar account – the American Meat Institute, beating 28 other agencies to the brief. So what about this 'big pencil' nonsense then I hear you ask? Shame on you – it's not nonsense at all. In fact the symbol of the 'big pencil' makes perfect sense in light of the saying that adorns the title bar of the website: 'Big ideas come out of big pencils'. So to quote an old GI Joe sound bite: "Now you know, and knowing is half the battle."
Step forward in time and Leo Burnett now has offices all over the globe, from Bolivia to Lebanon. Todd Sampson and Andy Dilalo work out of Leo Burnett's Sydney presence, and their own impressive client list stretches from Bailey's Irish Cream liquor and Energy Australia, through to Samsung and the World Wide Fund for animals (WWF). Yep, they can pretty much handle anything.
TODD SAMPSON, CEO
Born on a small island called Cape Breton, which is off the north east coast of Canada, Todd Sampson gained a full university scholarship at the age of 16, and by 25 he had completed his MBA. Joining Leo Burnett's Sydney operation in 2002, he is also one of the super-brains behind the amazing Earth Hour campaign for the WWF, which asks the people of the world to turn off their lights for one hour at the end of March.
Winning the coveted Titanium Lion at Cannes in 2007, Earth Hour has captured imaginations around the globe, especially as the initiative is so simple, anyone can join in – all you have to do is turn out the lights. "Earth Hour was the result of the collaboration of a number of people during a breakfast brainstorm at the Hilton Hotel in Sydney," explains Sampson.
"I am sure you have seen the stats, but for me it has helped parents speak to their kids about global warming and has given people an 'action' that they can do every day to make a difference. It is also proof in the power of a simple idea – one billion people, 86 countries over 4000 cities – who would have guessed it?"
Yet surprisingly for one so gifted with creative, Sampson explains it was almost fate that he made his way into the advertising world, that and a rather severe spinal injury. "I sort of fell into it," he says. "Or rather someone else fell and I got into it. I had never considered advertising until my marketing lecturer on the MBA fell down and broke her back. She had a creative director come in as a guest lecturer and I decided during his 40-minute speech on creativity and business that this was the career I was looking for."
While Samson doesn't believe he has a creative style as such, he does take pride in solving difficult problems, and advises that he finds a 'little lateral creative thinking' often does the trick.  Yet in this business it is simply not enough to find a solution, and in order for creative to be successful, it must also work. "If it doesn't work then it's art, and that is not what we get paid for. Work that works is generally based on relevance, and surprise, or what is referred to as the 'relevant unexpected'. You know it when you see it because it gets an immediate nod, as if you could have created it yourself.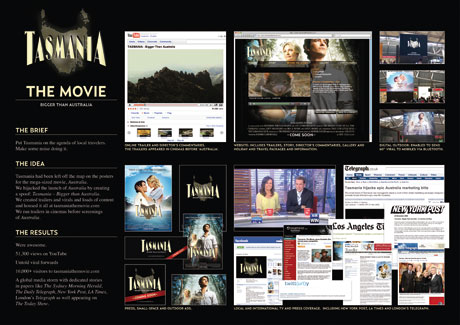 "This is a service business," he continues. "And we are an important creative resource for our clients. This is not art school – we are in the business of making our clients money – if we do this well they stay and new ones are attracted."
Sampson's place on the panel of the ABC's surprise cult hit, The Gruen Transfer, only served to cement his place (quite publicly) as a creative leader when he joined the show in 2008. So just how does one get plucked from the relative obscurity of an ad agency office to appear on national television? "Basically Andrew Denton and Jon Casmir asked me to audition for the  show," Sampson says of his foray into TV land. "I really liked them both and eventually agreed. It hasn't really affected my life that much other than my three-year old daughter thinks I sometimes live inside the TV. It has given me a different experience – one I would never have sought out on my own. I am really thankful to both of them for the opportunity."
The Gruen Transfer, hosted by comedian Wil Anderson, immediately gained a loyal cult following composed of creative's and consumers alike, and it was clear from the outset that it represented a lot more than simply an entertaining half hour jab at the advertising industry's lack of soul. "I think the show
has helped educate people about the power of influence," Sampson says. "It may get people to pause and think before they purchase, and this can only be a good thing. A better-educated consumer is good for everyone."
ANDY DILALO, EXECUTIVE CREATIVE DIRECTOR
Describing himself as the multi-faceted product of divorce and the new influence step-parents can bring to a family, Andy Dilalo is in turns a lawyer, a military general, history teacher, football coach and a second grade teacher. As a result, he has been blessed with the ability to see things from several different perspectives. On a daily basis he often finds himself playing one or several of these characters, though he admits that it is often the second grade teacher who tends to have the monopoly.
Drawn to the creative industry because he is easily bored with repetition, Dilalo is another who is happiest when playing the role of problem solver. "With advertising I think I found something that is always new and always broken. In my mind this is the perfect combination," he says. "Personally, I think anything is possible, and there is nothing I love more than proving it. If you can surprise people they have a tendency to remember you."
Sampson brought Dilalo to Leo Burnett late in 2008, at the time part of a creative duo whose other half, Jay Benjamin, has since moved on from the Leo Burnett fold. "When Todd first started talking to me about coming on as ECD of Leo's, he said he was looking for a partner to help evolve them from an advertising agency into an ideas company. That seemed like something worth getting out of bed for, so Jay (my creative partner at the time) and I jumped at it. So far it's been an amazing ride," he enthuses.
Creatively speaking, Dilalo isn't afraid to tell it like it is, something he finds is in relatively short supply in his industry, and a perception he holds responsible for winning and keeping those all-important clients. "Honesty in this business is in very short supply – second only to real insight. It's amazing how often people merely regurgitate to you what they think you want to hear," he says. "You want to be on the mark and you want people to notice. If nobody notices, it doesn't matter how on the mark you are. By the same token, if everyone notices, and what you have to say is irrelevant, then you're wasting your client's money."
Finally, Dilalo's idea of the perfect brief is enough to have any creative salivating. "To start with it would have a ton of money behind it and little or no testing. Next I'd want it to be media neutral. It would help if there was a clear problem to answer and a single-minded objective. Lastly, I'd love for the client to say something like: 'You know what, I pay you for your expertise and trust you. It would probably be best to follow your recommendation and not try to do your job'."
If only.
All images copyright Leo Burnett.
From Desktop Magazine.