Studio profile – Tin&Ed
AUTHOR: Chris Barton

Published: September 30, 2011
By day, their studio overlooking Flinders Street Station is a playground, shared with architects and film directors, and decorated with various outputs of their imaginations. By night, it has been known to host parties that entertain guests until well after the morning's first train has left the station opposite.
The Lost Boys
The Lost Boys, in J.M. Barrie's Peter Pan, or the Boy Who Wouldn't Grow Up, are boys who fall out of their prams and, if unclaimed for seven days, are whisked off to Neverland. In Joel Schumacher's 1987 cult film The Lost Boys, the name refers to a group of teenage vampires who live a hedonistic lifestyle.
In both instances, we feel affection for – and perhaps a longing to be – these characters who have fallen off the path. Deliberately or otherwise, they have managed to separate themselves from the rules, conventions and limitations of existence. In defying the human condition, they somehow remind us of what being human is all about – laughter, experimentation and the constant search for experiences that evoke emotion. Somewhere between the two definitions are Tin&Ed, Melbourne's Lost Boys.
"Other studios seem to be more like businesses, whereas we're just hanging out," says Tin. But hanging out is an important aspect of a business such as theirs – a business built not on 'connections' or networking, but on relationships forged through shared experiences both outside and inside the studio. "It's so much more than just designing something for somebody; it's about going through an experience with them. It can be really difficult, but also really rewarding, when you work with someone and get to the same place together."
Indeed, it is the late nights (working or otherwise) and not the early mornings that Tin&Ed favour. When setting up our breakfast meeting, I'm met with a wry question from Ed, "How early is early?" But I know this is because they work until the job is done.
We meet on a Friday at 10am at Hoboken, a café around the corner from their city studio. Having first met Tin&Ed when they designed ThreeThousand, there is some mild-mannered amusement when I tell them that I will be recording the interview. Despite having worked on at least half a dozen projects together, it feels like the first formality in six years, but we soon forget about it.
Tin&Ed prefer to keep things casual. Despite this being an interview, they listen and ask questions as much as they talk, a personality trait that also infers a natural tendency toward collaboration in their design practice. Whether the project is commercially or creatively oriented, dialogue lies at the core of what they do.
This openness is also an attitude that shapes the space where they work. While many shared studio environments are based on necessity, for Tin&Ed it is a considered choice that encourages cross-pollination of skills and ideas. "Sharing a studio is amazing, because you feel that there are other things going on around us that aren't just graphic design and we can collaborate with them too. It's interesting to have all these other conversations happening in the studio. If it were just us sitting in a studio, that would be really boring."
Boredom to Tin&Ed is a kind of creative kryptonite. "I have ADD," quips Tin. "I don't want to be doing the same thing over and over again." Learning and self-initiated education is essential to avoiding this. "We don't see having to learn something as a limiting factor. Not knowing how or what to do is not a bad thing. Also, when we start getting too good at something it gets a bit boring, so the briefs that we set for our personal projects are always something random and around a topic that we're interested in, but have no idea about. The accidents that happen in that kind of construct create really interesting results. Putting these obstacles in front of yourself is important."
One consequence of their dedication to education and exploration is that Tin&Ed's abilities, approaches and outcomes are varied. While formally trained as graphic designers, they are also seen as illustrators, animators and, more recently, photographers. So what is it exactly that Tin&Ed do? Graphic design seems too narrow a definition to account for all this craziness.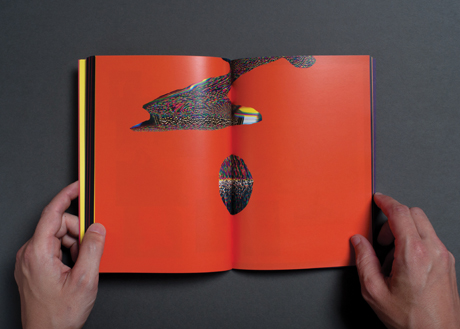 When operating in a commercial context, too much variety can work against you and this is something that they are well aware of. "For a while, we removed the term graphic designers from our website," says Ed, "but we put it back because we felt it was too confusing. The reason for not wanting to say 'graphic design' was because we think there are misconceptions about what graphic design can be, and in some cases some people don't even know what it is, let alone what it can be. But, while we still don't feel that graphic design is the right answer for us, it is a starting point."
One solution that Tin&Ed have found to the problem of definition and representation is to let their work do the talking. "The side of our work that we show is the type of work we want to get. We also have been focusing on accessibility. By accessible, we mean thinking about how we can present our work in a way that allows someone to interject themselves into our creative process and connect with it. It's interesting because a big thing that gets us our work is our personal projects."
These personal projects, such as their solo exhibitions United Eye, Holy Grams and A Relative Distance, tend to blur the boundaries between art and design, a fact which, generally speaking, is still something that Australia's creative community is grappling with. "We don't really see commercial and our personal creative projects as different things. It's funny when we get asked about our commercial work and whether we feel like we're selling out, because I feel that we are almost selling out when we do the art stuff because, having studied graphic design, we come from a commercially oriented background. While the perception out there is that we are more art-based than other studios, we very much see ourselves as graphic designers, not artists. We're definitely not artists."
This attitude provides two interesting outcomes. On one hand, it helps create respect for their work within the art scene, because they are removed from it. While, on the other, it generates more work for the studio by taking a non-precious approach to artistic output.
Having started their studio directly after university, Tin&Ed admit to being perceived as 'The Kids' within the design community. Although they are six years old as a business, the term seems to be sticking. But it is something that they embrace and play to their advantage, because it results in projects that are more fun, a crucial, but often forgotten criterion in life as well as work. As The Kids, there is also great power and potential in exceeding people's expectations. Tin&Ed work hard on their internal processes to ensure that their professionalism is as assuring to clients as their final outcome in engaging.
I ask whether maintaining discipline in such a fluid studio environment is difficult. "The individual projects keep us disciplined and create the structure for how we work, but managing the peaks and troughs can be hard sometimes. Just as we start to think that we don't have much to do, we suddenly have too much to do." Also, while most wouldn't admit it, for them programs like iCal and Things play a vital role in helping navigate the changing terrain of their business and avoiding those moments of critical mass that have the potential to break small studios. "Before iCal and Things, I'd be using Post-it notes," Tin recalls. "I can't read my own writing and the Post-it notes would be all over my face. It's such a simple thing, but it's totally changed how we work and our ability to meet expectations."
While the devil may be in the details, Tin&Ed are also aware of the bigger picture and the requirements of turning their dreams into realities. "We have a business adviser who is kind of like our marriage counsellor. We see her once a month or so and while we vaguely feel that we know what we want, when she asks us questions, it turns out that we don't. While she's very 'big picture' stuff, it's not just about setting goals, but also about actions. Her main thing is asking us: 'What do you want to do? How are you going to do it? When are you going to do it by?'" Our conversation suggests that, in order to become Lost Boys, they fell out of the proverbial pram when they finished university. "The course definitely made me not want to be a graphic designer. What they taught was a very narrow idea of what graphic design is, or could be. They teach you to design a business card, and for us we wanted to make things out of sticks, for example, and really explore all the different possibilities. What we think, and what we tell students now, is that design is anything. Design is what you want it to be."
Creating the world that they now inhabit has required a constant process of learning and unlearning, using knowledge, while embracing the unknown. "There is nothing wrong with accepting the unknown. As soon as you think otherwise is probably when you're more lost. That's definitely what we're about, not knowing, and being comfortable with that and trusting that you can find something." While they admit there have been challenges, and occasional knowledge gaps, the fact that they have never worked for other studios "has been liberating because we haven't had to worry about time as much."
Speaking of time, our scheduled hour for our breakfast conversation has now extended to two and a half hours, it's an example of how Tin&Ed's energy and enthusiasm can intoxicate and transport you to a place where time bends and everyone is friends – a place where meaningful things, not just things, happen.
From desktop magazine.

All images copyright Tin&Ed.