To intern or not to intern?
AUTHOR: Pip Jamieson

Published: September 12, 2011
I'm going to confess that I am a massive fan of internships. I actually began my career interning for MTV while at university, which was later followed by 6 glorious years with the company.
For an intern, it's an amazing opportunity to get real world experience, build up a portfolio of work and make contacts that can last a lifetime. Most importantly, it's a great way to get your foot in the door to take that all important leap from learning to doing.
For employers, it's not only a wonderful chance to give back to the industry, and help shape the seniors of tomorrow; it's also a chance to learn. Don't underestimate what juniors can bring to the table. Their minds are fertile with new ideas and skills; you'll be surprised how quickly they can teach an old dog new tricks… and, hey, who doesn't want to try before you buy?
So, if you're thinking of hiring an intern or becoming one yourself, below are some tips to help you along the way.
Hiring Interns
First and foremost, the all-important question – I'd love to take on an intern but how do I find them?
Universities and higher education – the most forward-thinking institutions run internship programs. Simply call relevant institutions in your area and ask to speak to either their careers department or industry liaison officer.
Industry bodies – many industry bodies run internship programs or will know people that do.
Jobs boards – there is a bevy of job sites out there, some paid, some not. Find one that is relevant to your industry and simply post a job. If you're looking for a creative, I'd recommend theloop.com.au (sorry, shameless plug) as we're chock-a-block full with fabulous juniors.
Tips for getting the most out of interns
Clearly define the role:
There's nothing worse than a disgruntled intern, so make sure you clearly define the role, responsibilities and working hours, so they know what to expect. Also, try to mix up the more mundane tasks with projects they can sink their teeth into. In the end, finding staff is never easy, so the more people who get excited about joining the industry due to a positive internship experience, the better.
Induction meeting: Spend time with your intern when he or she arrives and take them through their roles and responsibilities – but, more importantly, engage with them and find out what they would like to get out of the internship. If they have a specific area they're passionate about, then try to bring this into their role, and remember to ask them to sign a confidentiality agreement.
Orientation: Introduce your intern to the team, talk them through the role of each department and let them know the dos and don'ts of the office. Remember, many interns have never worked in an office environment before, so what may seem obvious to you, is a whole new world to them.
Assign a mentor: Having a key point of contact for your intern is essential. Interns need someone to report to regularly – weekly if not daily, catch-ups are a must. Not only is it a fantastic opportunity for your intern, it's a great opportunity for the mentor to build their management skills, and share their knowledge and professionalism.
Questions: We're all pretty time-poor these days, so fielding lots of questions can be tough. I'd suggest encouraging questions; in the end the more you can inform their work in the early days, the more your intern will be able to give back in the long run.
Payment: This depends on what financial position your business is in, but offering some form of remuneration is always good business practice and boosts morale. I always try to pay as much as I can afford. This can range from simply covering all travel and expenses to offering a weekly stipend or a junior-level wage. Interns aren't the wealthiest bunch and often have to travel long distances to get to your office, so you don't want them to be out of pocket.
Duration: I used to get interns in for one to two days a week over a couple of months but, on reflection, a fulltime internship is a better way to go. It means they can get their teeth into a project, instead of being assigned random tasks and in time become a resource you can rely on. Any internship that lasts less than a week is a waste of time; you'll spend more time on training than doing. If the internship exceeds a month, you need to think about offering a proper wage.
Feedback and introductions: If you're not in a position to offer an intern a full-time role, then helping them get to that next step is a great way to go. I'll always make introductions if they're good or (and this rarely happens), if not so good, I'll give them honest feedback on what they need to work on before they can move onto the next stage.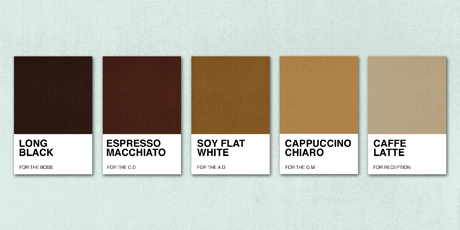 Becoming an intern
Getting your foot in the door:
The direct approach. Research companies in your industry (second shameless plug, but we have a cracking list on The Loop – theloop.com.au/companies/creative), create a list of companies that you'd like to work with and email them directly. Here are a few pointers to make sure you stand out from the crowd:
Make it personal – before you send an email to 'Dear Sir/Madam' call the company and get the name of the person responsible for hiring interns.
Be passionate – tell them why you want to work in this sector, what you love about their company and what skills you can bring to the role.
Sell your skills – attach your CV and, if you're a creative, provide a link to your online portfolio.
Introductions work wonders – ask your lecturers, friends or contacts if they know anyone who works at the company you are interested in. This is where networks like Facebook, LinkedIn and The Loop come in handy, as six degrees of separation are often more like one. You're more likely to get through to the right person if there's some form of connection.
University. If you're at university, ask if they have an internship program. If they don't, lobby for one.
Job board. More and more job boards have internship roles appearing. There are loads out there. Just Google 'internships'.
Tips for getting the most out of an internship:
Know what you want to do and be passionate. This will help your employer tailor the internship so that you get the most out of the role, enthusiasm is highly contagious.
Build key relationships. Identify which person in the office you aspire to be like in five years and buddy up to them. When I was interning for MTV, I was placed in an uninspiring department. I quickly got chatting to someone in my dream department, however, and asked if I could help with anything outside of office hours. I then worked my socks off from nine to five in the current role and stayed late to work on the fun stuff. The contacts I made while working on the fun stuff are still in my life today, 10 years on.
Make yourself indispensable. Take on every task with open arms and ask for more if you have downtime. In the end they may just offer you a full-time gig.
Be a sponge. You're there to learn, so lap it up. There's nothing worse than an intern who thinks they know it all. If you do, then don't take an internship, start your own company.
Be lovely to everyone, even if they're an idiot. Unfortunately not everyone out there is nice, but don't make enemies, they can last a lifetime.
Be professional. Be respectful to everyone, ask permission from your manager to go on lunch or to leave the office and, most importantly, don't chat away on your phone or jump on Facebook… Even if it's what your boss does!
Take it on the chin and get on with it. You're not going to love all of the tasks that are given to you. Unfortunately, that's the reality of work, but be enthusiastic about everything, work hard and always wear a smile. The more you jump to every task, the more you'll get to work on the fun stuff.
Be part of the conversation. Don't be afraid to ask questions, contribute and sell your work. Talent only takes you so far, being passionate and a real contributor will take
you the whole nine yards. There's always a fine line between passion and arrogance, so learn to get a feel for how people react to your suggestions and adjust accordingly. Make the most out of it.
From desktop magazine.
Illustrations: Heath Killen madebyhk.com