Unemployable: the story of skating success
AUTHOR: Eloise Mahoney

Published: December 4, 2015
After four years of writing, researching, skating and collaborating it's finally time to feast your eyes on the coolest coffee table book published this year. Unemployable: 30 Years of Hardcore, Street and Skate is a story about Aussie misfits, the Hill brothers who transformed their 'unemployable' hobby of skateboarding into the most successful international skating brand: Globe International. Told by author and friend Jason Boulter, the book has been meticulously curated taking the reader on a 30 year journey from the early chapters of life in the 80s to the present global brand specialising in apparel, footwear and board-sports.
desktop chatted with Boulter before the launch of the book to learn about the origins of the Globe brand, the idea behind the title and the sheer amount of time and effort it takes to design a book of this scale.
_
Tell us about your background in publishing and why you decided to write a book about Globe International and the Hill brothers?

I worked for a Globe associated company called Whyte House Entertainment, which was like a documentary and entertainment production house. I've been working there since 2002 and I had sort of been hearing of a vague concept to celebrate Globes 20th anniversary. But it never really seemed to take off and had been pushed aside for marketing reasons. I was always sort of amazed at how little people knew about Globe and Hardcore and it's various companies, given that it was established in Melbourne. Even more interesting, is when I looked into the official histories of surfing and skateboarding, again there wasn't much mention of Globe or the Hills and I felt like there was a really big gap. They are very low-key people, even though they are in an industry that is sort of about trumpeting how good you are.
The company has a lot of different areas that it's involved in, from skateboards to surfing events, streetwear, apparel, footwear and all those are often seen as quite individual things. So it was an opportunity to tell that story of the unsung Australia hero. It started off as a small business and it's grown up into this big Publicly Listed Company, but even for a PLC it's quite an unusual beast.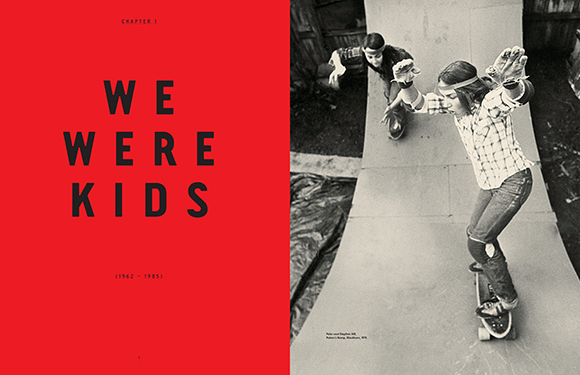 What is the reason behind the book title Unemployable 30 Years of Hardcore, Skate and Street? Did you always have this name in mind or did it evolve overtime?  
We struggled with the name a fair bit because on one sense the company is called Globe International, but it's a bit dull to call it the 'History of Globe International' or 'The Globe Intertaional Story'. The company actually began as Hardcore Enterprises, that was it's original name and we were sort of thinking of calling it '30 years of Hardcore' or something like that.
One day I was going through interview notes from Peter Hill talking about his very early twenties and thinking about what he and his brothers would do with their lives. Both Peter and Stephen had been to school but they had both really described themselves as being 'Unemployable'. That sort of name jumped out because they were in their twenties, still skateboarding, not taking University seriously and working part-time. They had that description that no-one would want to hire them to work, so they were going to have to create their own company that would suit their lifestyle. The Unemployable theme was quite interesting because when you looked around at other people who have worked at Globe International for quite a long time you can actually see a similar theme, they are people that don't naturally fit into a mould so to speak.
The title Unemployable is very relevant now as well, with more people turning to freelancing and creative people finding alternate ways to make a living from what they love. 
Well and truly. Our generation and the generation coming next, there is the expectation that you are not going to work for one company anymore. You can own your own business or work for lots of different people and we think Unemployable really taps into all that as well. People are more open to do other things and try new things.
From your research into the 30 years of Globe brand why do you think it still remains so successful?
Obviously there are a lot of other people doing the same thing. But if you take the example of Skateboards, you can see the Hill brothers make beautiful skateboards, well-designed, a lot of time and effort goes into it. But then you can go to K-mart and buy a $10 skateboard and you're left asking what's the difference? I guess these guys literally do agonise over every detail of the production they produce and a big part of that is their own passion. They are skateboarders and have been skating since they were little kids. They thrive on every element of the skateboard, from the wooden deck veneers to what type of wood they use, the glues, the shape. Skateboarding also has the rich graphic history of the art that you put onto the skateboard so there is a lot of thought about the whole graphic design element.
The Hills are not that different from the enthusiastic kids they were in their teenage years. When designers are bringing them a shoe to look at, they are thinking 'could you skate in it, could you do this…'. It's that sort of authenticity that comes through in the final design.
This is the first book you have worked on from start to finish. Did you take part is the whole design process or collaborate with other designers? 
It's cliche, but it's a collaborative effort. Whilst I did the writing, researched the original images and drove it as a project, it's such an immense undertaking. Just the sheer scale of it has been quite something. The first thing we had to do was get it all put together somehow and over the years we have done bits and pieces with the guys at Sneaker Freaker Magazine. They were really integral when we were first kicking around ideas of how we would construct the book and they were literally there from the very beginning. As it progressed we got Herb George, Globes Senior Art Director onboard to oversee the overall look and feel of everything. And we also hired Mike Beach to help art direct the book.
The book is sort of divided into chapters by business units in a way. The first chapter is about the Hills themselves, where they came from and how they sort of started. The next chapter is about Hardcore and the real Australian skateboard business. The next chapter is about streetwear and all the streetwear labels that they have distributed.
So we had all these guys working away at their own chapters and coming back to Sneaker Freaker who are doing the final edit and the actual design construction of it all. You know it works quite well. It obviously means you are going to have quite a lot of creative differences and it's a slower process. But like all of those sorts of things, that's where you're going to get something that's extra special. When you have three or four people arguing about what photo should go in, how it should be layed out or what photo should be cropped that's where you get that really interesting thing that comes out of collaborating – magic.
How long did it it take to research, write and publish the book?
We started in November 2011 – so pretty much a four year job, which has been a wonderful luxury to spend that time on it. We have interviewed over 200 people and we were really determined to make it very inclusive, so people that have worked for Globe in the past or do today, sponsors, skateboarders, surfers and designers. And that's the other fun part, is that on a design level they have done so many labels and so many different people have worked on those over the years.
It's a very unusual project. It's had the backing of such a big group of people. It was also a little open ended. The design brief evolved over time and we had the luxury to change it around. Initially it was only going to be a small coffee table book.
_
Images provided by Thames & Hudson Australia Pty Ltd
Unemployable: 30 Years of Hardcore, Skate and Street is available for purchase December 2015.