A decade behind Bibliotheque in one London weekend
AUTHOR: Desktop

Published: October 21, 2014
Being one of the largest London-based design consultancies, Bibliothèque celebrated a decade of producing memorable branding work with an exhibition that included work spanning the last ten years, having collaborated with creative bodies that are close to home but recognised across the globe. Over this past weekend, there was a site-specific installation, café and pop-up bookshop held at the Hoxton Arches.
—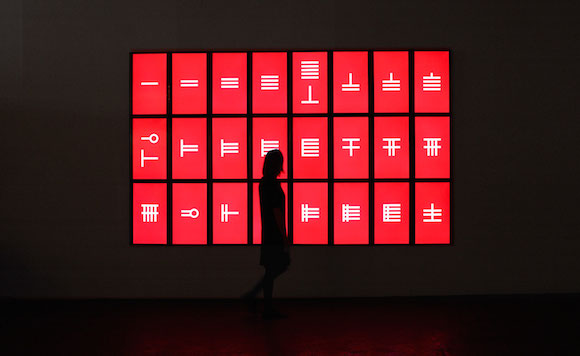 Developed in collaboration with The Workers, the event paid homage to a decade of work for clients including the Design Museum, the V&A, Adidas and Vitsoe, with 24 screens and 'intentionally analogue' red buttons to jumble and distort the works on display. Projects like Adicolour for Adidas, involved meeting with over 20 iconic collaborators, including Peter Saville, Claude Closky and even, Kermit the Frog.
A collective effort with Artwords in Shoreditch and Broadway Market, the bookshop was a treasure trove of rare and collectible pieces of print, sourced from the studio's own archive. Fittingly, there was also limited edition books produced exclusively for the event, as well as a one-off curated reading list.
Co-founder Jonathon Jeffrey, spoke to Wallpaper about oddities like 'objectifying' the footwear of great athletes with Adidas, before moving on to projects that were perhaps a little more 'idiosyncratic' — for example, creating the identity for Moving Brands (a fellow London-based agency).
—