Analogue/Digital continues its 2014 season in Adelaide and Sydney
AUTHOR: Desktop

Published: August 21, 2014
Back for its second 2014 round in October, Analogue/Digital Creative Conferences tickets are now on sale for Sydney and Adelaide. Headed up by the famously enthusiastic Matt Haynes, the conference stands apart for its focus on facilitating a connection between speaker and audience – breaking down long-winded lectures into fast paced presentations, followed by group Q&As, and an inclusive, friendly atmosphere. Haynes concentrates on inviting speakers that discuss topics and case studies relevant to the future of creative industries within Australia, but also provides a great party, too.
This year, desktop editor Bonnie Abbott will be taking the stage in Adelaide and Sydney, along with many more talents, which include Andrew Suggit, Ken Taylor, Gemma O'Brien, and Phebe Schmidt – one of our Semi-Precious graduates!
Bonnie Abbott
Editor of desktop, Bonnie is a print designer and design writer from Melbourne; she also represents one half of the investigative design and research partnership Double Days. After working primarily in publication design for 5 years, Bonnie was soon writing articles and interviews for Creative Review, Process Journal, Artichoke and MADE Quarterly. In late 2012, she joined interactive designer Aimee Jay to form Double Days, with the aim to combine blogging, multi-disciplinary design explorations and visual response as a form of critical publishing.
Phebe Schmidt
One of our own featured graduates from Semi-Precious, Phebe is a Melbourne-based photographer who creates hyperreal images, often portraits, which are tightly constructed but essentially ambiguous. Her work has a stylized plasticity and bright surface that acts as a mask that plays with ideas of self, theatrical role-playing, and what lies beneath. She'll be a Next Generation Presenter at the upcoming Analogue/Digital conference.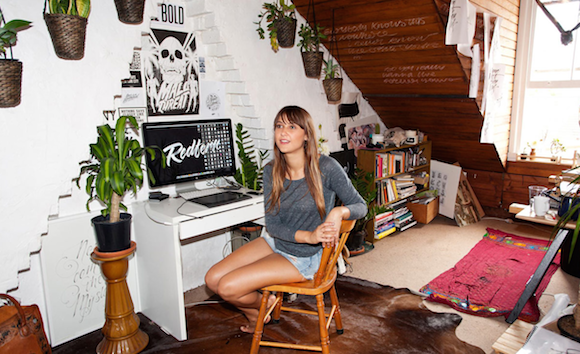 Gemma O'Brien
Gemma is a Sydney-based artist specialising in hand-lettering, typography and illustration. She has created work for clients including Woolworths, QANTAS, Heinz, The New York Times, Volcom, Angus & Julia Stone, Monster Children, Smirnoff and Kirin.
Andrew Suggit
Andrew is a freelance creative with over ten years experience specialising in Brand & Corporate Communication. He has worked with some of Queensland's largest companies and sporting teams including Energex, Arrow Energy, Gladstone Ports and the Gold Coast SUNS.
Josh Fanning and Farrin Foster
Josh and Farrin have been collaborating since the mid two thousands. Both have a background in journalism, but the collapse of the traditional media job market forced the pair to forge an alternative career path. In 2014 they share responsibilities for CityMag, a freesheet distributed in their hometown of Adelaide, South Australia, which was launched last year.
Ken Taylor
As a Melbourne based illustrator and designer, Ken works primarily within the music industry and is well known for his striking rock posters. Ken has designed posters and album artwork for many Australian bands including You Am I & The Beasts of Bourbon & Crowded House. Internationally he has designed artwork for bands such Queens of the Stone Age, Metallica, Pearl Jam, Nine Inch Nails, Kings of Leon, Bob Dylan & The Rolling Stones.
—
For more information on the lineup and to purchase a ticket, take a look at Analogue/Digital for further details. See you there!