Barcelona, Berlin and Beyond — the international work of TwoPoints.Net
AUTHOR: Desktop

Published: September 22, 2014
Spread across Barcelona and and Berlin, the TwoPoints.Net studios have been busy since our last update, producing in a truly international sense – either with their intercontinental clients, or with a global awareness in their work. Creative director Martin Lorenz got in touch to let us know about the newly completed projects, including an identity system for the National University of Singapore and a book exploring the relationship between refugees and socio-political factors.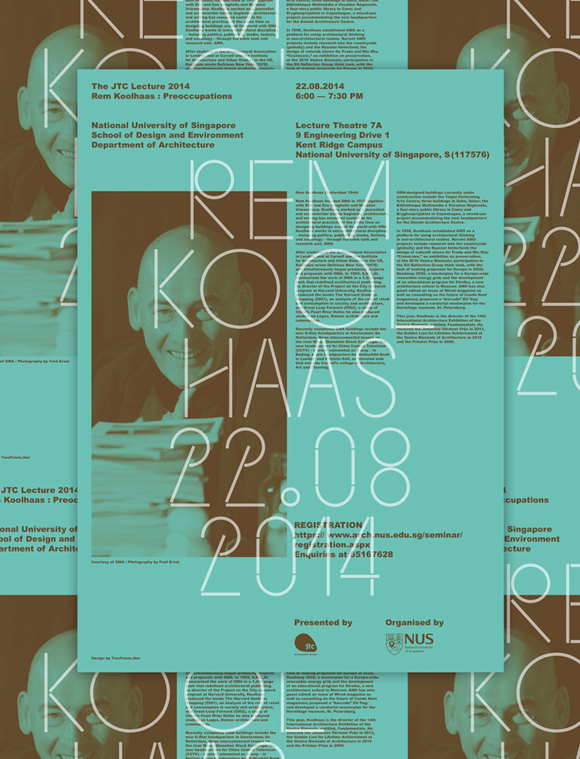 Thom Mayne and Rem Koolhaas Lecture
Commissioned for the National University of Singapore, a visual identity was created for the architecture lecture series being held this year. The studio made a poster and other promotional items to accompany each talk, as well as a wayfinding system for the event. They explain, "the identity consisted of a custom designed typeface and a distinctive grid system. Each lecture became its own colour combination to visually distinguish one event from another."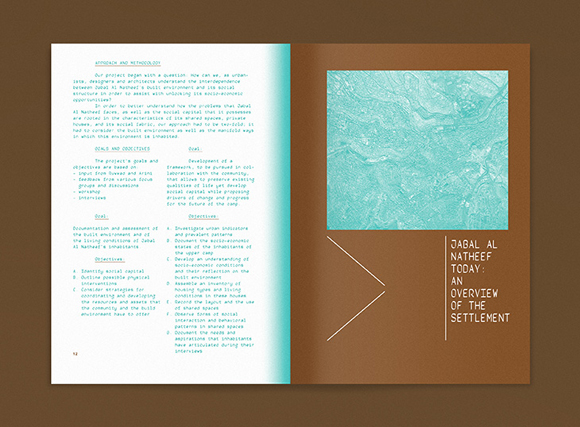 Mapping Jabal Al Natheef
Uncovering the "turbulent nature of politics in the Middle East", the book investigates "the relationship between refugees and socio-political factors and most importantly space and physical aspects." Compiling data that is scenario and time based, the studio examined "mapping processes as active agents of change." The typeface, VLNL TpKurier Calligraphic was used for the interior body copy, Jordan type designer Ali Almsari developed an Arabic version of the typeface to keep the identity consistent across translations.
Scalpel
With the concept of bringing together 12 though-leaders or "surgeons", from the practice of film, photography, art, technology, retail, design, fashion, music and celebrity, Scalpel presents profiles from each sector with five emerging talents to keep an eye on. Developed by Dutch agency, Amsterdam Worldwide for Pernod Ricard, the studio state that this might have been "the most expensive book" they've produced. With "three different linen spines with silver stamping and lasercut on real wood", each one of the 600 copies emanates a handcrafted quality.
All of the most recent projects can be seen in the newly created video dedicated to the studio by Dicke Muttis, celebrating the printed works of TwoPoints.Net.