Behind the 'Sweet' identity for Melbourne Fringe
AUTHOR: Desktop

Published: September 22, 2014
We spoke to creative director Fiona Sweet from Melbourne-based Sweet Creative about their latest commission for the city's largest alternative performing arts festival — Melbourne Fringe. While quite structured, the identity is still eye-poppingly saturated and doesn't remove itself from the usual theme of whimsy. Having previously completed the 30th year celebratory identity, Fiona told us all about designing the festival brand for a third time:
How were you approached for the project?
In 2012, Melbourne Fringe approached us to work with them and develop the creative concepts for the 30th year of the festival. The next year they asked us back, and our senior designer Riesa Renata developed the stunning campaign which saw record growth for the festival. Melbourne Fringe wanted to open up the festival to increasingly broader audiences and understood the value in this goal of clever design. We were invited back again for this year's festival, which will be the largest and best attended one yet.
How did you develop the central idea of the project?
In previous years the visual communication brief had been clear. This year, the Melbourne Fringe gave us an open brief, expressing the trust and belief in our work that has now developed. We embraced it and presented them with diverse concept development. Our strong knowledge of the festival and its goals allowed us to develop wildly different concepts, each with a clear rationale. We presented 4 concepts but the "F" was a hands-down winner.
Our vision was for an uncluttered yet striking and memorable key art for the Festival. One that could stand boldly alone as their mark and be extended endlessly to all collateral – print, web, advertising, satellite events, animation, signage and trophy award. The two dimensional F, almost stripped back to its core and in its most basic colours, creates a three dimensional vessel for endless possibilities and creativity, it exudes energy, movement and personifies the Festival's sense of fun.
For 2014 Fringe's creative program (Uncommon Places, Fringe Film: Digital Creatures, Fringe Furniture: Living Traces), we created an extension series of playful, surreal and tactile creatures emerging from the 'F'.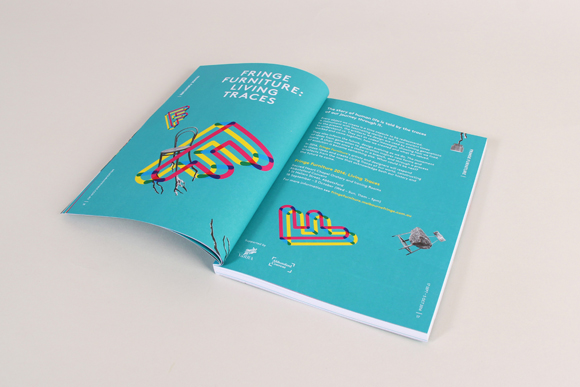 What kind of response have you had to your work for the festival?
On a professional note, we have had many positive responses to the work. New clients are approaching us as a result of the design, too. But most importantly, Melbourne Fringe Festival has had an overwhelming response to the visual campaign, ticket sales are up and media is definitely more interested in all things Fringe.