Bold and brave: Hey Studio's new website has a heap of unseen work
AUTHOR: Desktop

Published: September 26, 2014
Barcelona-based studio Hey has welcomed this week with a brand new website and a collection of fresh projects in the form of corporate identities and publication design, all with their usual bold, minimalistic sensibility and penchant for utilising illustration.
We've followed them closely this year, from their 'happy' contribution to our 300th celebratory issue, their World Cup series Gol! and creative Instagram feed, to their special feature coming up in our next issue…
Diploma ArtFad 2013
The studio was commissioned to create the annual ArtFad 2013 Diplomas for the Contemporary Art and Craft Awards. The studio explain that the "transparent and fluorescent methacrylate" was "laser cut to create [the] letter A." An unusual variation on the standard trophy or certificate, these luminescent sheets has turned a grid into a tactile object that is substantial and enduring, yet lightweight, well-crafted and reduced to the bare necessities without sacrificing showmanship.
Jammy Yummy
From a new company based in Miami, a hand-made range of savoury vegetable jams​​ were dressed by Hey in labels that look as though they've had an intimate encounter with a hole-punch. In fact, "the labels are a set of random die-cut perforations where the holes suggest the constant nibbling that the food provokes." As a condiment for picking, dipping and spreading, this selection of jams are also accompanied by equally colourful (and hole-ridden) business cards.
Agenda CCCB 2013
The design of the bi-monthly programme of events for the Barcelona Contemporary Art Centre grew from "seeing the museum as a receptacle for contemporary ideas." The common visual of the square on the cover is a reference to "the CCCB building seen from above," as the studio explain. Wanting to create something that could be reinvented yet remain cohesive and continuos over time, "the aim was to create a design that can last for 5 years without losing its appeal."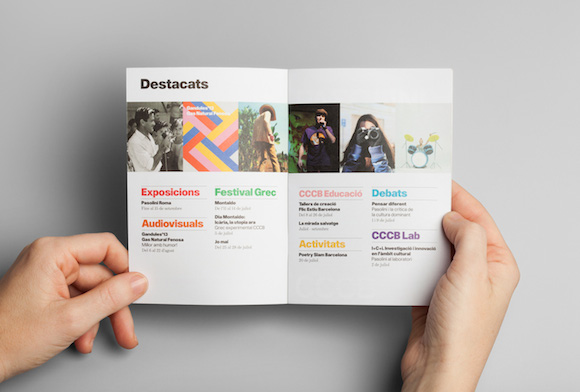 ArtFad 2014
Continuing their work with Artfad, the studio created a graphic identity that would again feature the letter A as a base "layout" or "outline", to then be filled with colour, patterns and materials. Translated into invitations, the print edition were made using Maxon comic patterns (wax type self-adhering vellum sheets) with "the only machine process [being] the printing of the text and lines." The studio explain that they bought "100 different patterns that were applied manually" and individually, resulting in "500 unique invitations."
MACBA Folding Exhibition
The Museum of Contemporary Art Barcelona required the design of a digital book that would explore "good practice in the documentation and archiving of exhibitions and artworks." As a potentially dry academic subject, the studio took the opportunity to be delightfully ironic by playfully mimicking the shapes, tones and systems of digital filing and data collection throughout the publication. "The content was predominantly surveys conducted in other museums around the world. Our work was to translate the results into graphic illustrations while keeping the idea of documentation."
 —
All images: Hey Studio