Canberra's Centenary Typeface Competition
AUTHOR: Desktop

Published: November 14, 2013
Earlier this year, The $10,000 Canberra Centenary Typeface Competition was launched with an aim to award and develop a typeface for wide use in celebrating the city's 100th year. Seeking a winner that captured the "style, spirit, prestige and character of the city of Canberra", the competition closed late last month, with 84 entries submitted from all over Australia, the United States, France, Chile, the Czech Republic and Indonesia.
Interestingly, a US entrant— Alex Kaczun of Type Innovations —was highly commended. But it was James Raftopoulos, a freelance designer from Melbourne who was the winner of the grand $10,000 prize. Competition Chair and master typographer Mike Chandler described his entry as "…a graceful yet modern typeface that reflects the potential of typographic design while instilling a reminiscence for the past."
We talked to James about the development of his winning entry.
How did you approach the project?
The brief instantly triggered a few ideas in my mind surrounding Walter Burley Griffin's original plans for the city and his wife's detailed renderings. Yet how these thoughts would come to fruition in the form of a typeface was something which required a lot of sketching and re-shaping. The first couple of drafts were much more extreme with letterforms almost tracing the contours of city streets. The challenge was reigning this in and ensuring that the end result would be usable and legible without compromising too much character. Looking at existing type and seeing how designers dealt with similar challenges helped a lot in this regard.
What particular key factors or characteristics of Walter Burley Griffin's did you focus on?
It was hard to ignore the design legacy that the Griffins' have imparted on Canberra. There were plenty of visual clues and stylistic flourishes in their work which helped to define the structures of the letterforms I have created and their relationships with each other.
How do you think it turned out? What kind of tone does the typeface have?
I am not a professional type designer however I think the typeface has a pretty distinct, if somewhat idiosyncratic voice. It bears the weight of history in its concept, yet aesthetically feels light and contemporary. It speaks to the design history of Canberra, whether it be literally defining its physical spaces and architecture, or capturing the spirit of its cultural heritage. I guess its a bit of a cliché at milestones such as these, but I think its voice is reflective, yet modern; looking backwards and forwards at the same time.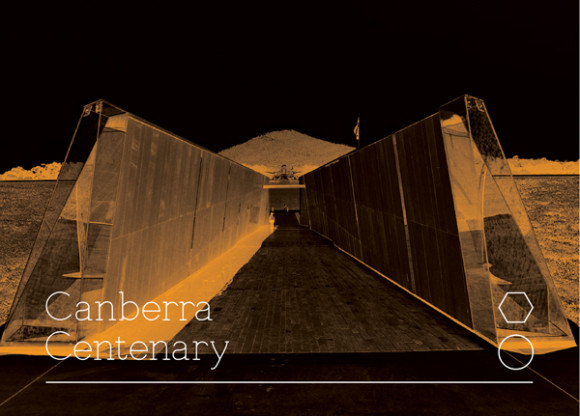 Do you have any connections to Canberra? What do you understand Canberra to be?
I don't have any strong links to the city, so I guess from my slightly removed point of view I really appreciate the fact that Canberra is designed from the ground up. I think this very notion encourages creativity and boldness in ideas and thinking, as you are literally living in a created landscape. I also know that its very cold there, but as a born and bred Melbournian, I can't really talk when it comes to weather.
How does it feel to have won something like this so early in your career?
It is a tremendous honour to have my work associated with such a momentous occasion. I'm really looking forward to seeing it in action.
Can you tell us a bit about your typical working process?
As opposed to the speed at which the ideas for this competition began to develop, my design process is often slow and meticulous, with a lot of time dedicated to researching and engaging with the subject matter. Being a recent graduate I am still settling on methods and processes that work best for me. I am currently freelancing and developing my portfolio, and simply looking to involve myself in as many projects as I can whilst meeting other interesting creative people.
Upon the competition's first announcement, the organisers came under fire for the competition's similarities to a crowdsourcing contest. After an Twitter outcry and intervention from AGDA, Kris Sowersby, Stephen Banham, Geoff Hinchcliffe and Russell Kennedy, the competition was restructured to include an AGDA juror, the abolishment of an entry fee, pangram submissions were only for selection of a winner (as opposed to complete alphabet in different styles and sizes) and the winning typeface was fully developed for a $10k fee. AGDA released a comment stating that after 100 emails, the competition now "acknowledges and respects the prowess and professionalism of communication design… The consultative journey points to our industry's continual crowd-sourcing and free pitching challenges."
The winning typeface and the rest of the entries are on display at an online gallery.