Create Awards 2014: Signage & Display shortlist has been announced!
AUTHOR: Desktop

Published: August 7, 2014
Now in its 10th year, the 2014 Create Design Awards is celebrating the thin line between what makes design and what design makes. And twice a week, we will be announcing the shortlisted entries for each category. Today, it's Signage & Display.
Sponsored by Spicers, this year's shortlisted entrants include Büro North, Band, The Distillery, Thi Nguyen and Studio Equator.
The judges were looking for excellence in printed graphics and displays for the purpose of signage, large-scale posters, wayfinding, exhibition graphics, installations, interiors, retails displays, and shopfronts. Judges will consider effectiveness, innovation, use of materials, consideration of spatial context, and aesthetic craft.
The shortlisted entries are listed below. Head over to createawards.com.au to see the images and rationales for each entry in full.
Studio: The Distillery
Client: Bridge St Garage
"We developed the restaurant's visual identity, evoking 60's Americana, film, rock and roll and greaser culture.

 We brought the identity to life by completing large scale, hand painted murals throughout the site…"
Studio: Band
Client: Gallery
"As a part of rebranding, Gallery required signage to assist in creating a street presence in what is a highly competitive area. Seeing an opportunity from street view we developed neon signage for each level which branded and clearly defined each area…"
Studio: Studio Equator
Client: White's Dispensary
"We wanted to highlight White's three main product areas of health, well-being and beauty through an aesthetically different environment. In-store, we used large-scale graphics to communicate the Whites philosophy "Health is the measure of wealth" with sayings from influential spiritualists…"
Studio: Büro North
Client: University of Tasmania
"Our design response involved a highly integrated signage and environmental graphic solution to match the crafted architecture and sensitive context…"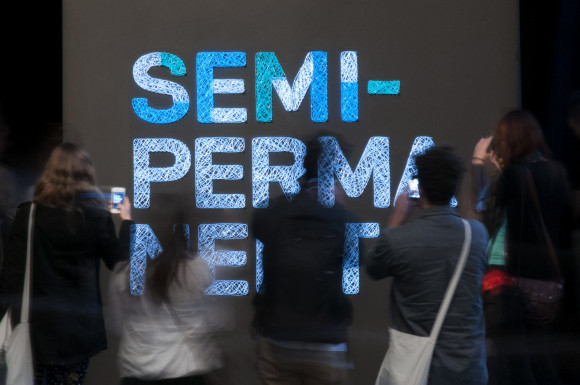 Studio: Thi Nguyen
Client: Semi-Permanent
"Semi-Permanent approached us to create a neon signage display to showcase the new brand. However, we've questioned whether a neon sign had enough cut-through to the public and have enough stage presence in a large auditorium. So we've created a two metre artwork…"
Studio: Büro North
Client: University of Tasmania
"The typeface face was designed to be experience in both two and three dimensions. This allowed for more versatility of application with in the centre, from use in more landmark based applications to smaller directory based information…"