Create Awards 2015: Shortlist announcement – Emerging Talent
AUTHOR: Desktop

Published: August 14, 2015
The entries came flooding in. We've sieved through them. The judges have decided.
Now in its 11th year, the Create Design Awards celebrates the creative industry, awarding exceptional talent over a vast array of creative fields. And over the next two weeks, we will be announcing the shortlisted entries for each category each day. Today, we will start the ball rolling with the Emerging Talent category.
_
Sponsored by Shillington College, this year's Emerging Talent shortlisted entrants come from varied backgrounds and some are currently students at industry-related schools. 

The judges were looking for design excellence, originality, ingenuity and excellence in delivery of the submitted brief or project (where relevant).
And here are the shortlists!
Finn Murphy
"Finn Murphy worked as an electrician for many years but knew that it wasn't his true calling.  Greatly inspired by his sister (Sinead Murphy – last year's Emerging Talent winner) who has a great passion and love for design, he undertook a design course  with no experience of the software…"
Johnny Boardman
"After graduating in May 2015 from Shillington College, Johnny Boardman walked straight into an internship at Marque Brand Consultants. His portfolio boasts a broad variety of work and style, showcasing a strong set of skills both on and off the computer…"
Kate Floro
"With a background in interior design, Kate Floro wanted to branch out and gain new skills. In three months, she pushed herself conceptually and approached every brief with enthusiasm…"
Miranda Mayne
"Miranda Mayne attacks each brief with humility, brains and a beautiful aesthetic, which shines through in her diverse and polished portfolio. Her campaign for Sense festival focuses on the role that our senses play in making memories…"
Priscilla Lynarko
"Priscilla Lynarko's portfolio contains candy packaging aimed at the visually impaired as part of an awareness campaign for Vision Australia, a MardiGras campaign where X & Y meet, a handmade book cover and an awareness campaign for palm oil products…"
Louise Walker
"Louise Walker graduated last year from Monash University in Visual Communication Design and received the Most Outstanding Folio of the Year award. While studying, she also worked as a graphic designer for a collection of cafes…"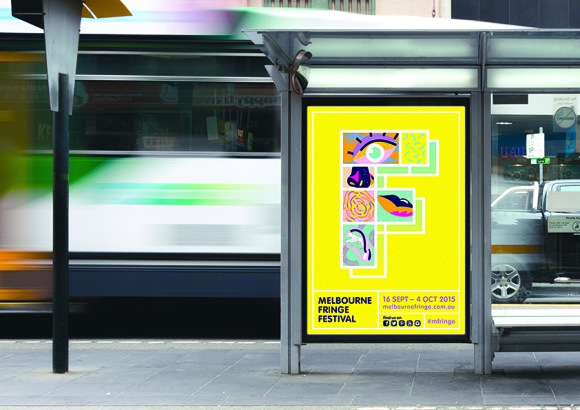 Jess Xuan
"Jess Xuan graduated from with a Bachelor of Visual Communication (Design) from Monash University in 2014. Prefering to keep things simple and emphasise readability and legibility, Jess' work shows strong colours that complement the client and brief…"
Josh Aucutt
"Josh Aucutt completed a diploma of graphic design and then embarked on a Bachelor of Visual Communication degree at Monash University. During his studies at Monash, Josh chose to focus on building skills in typography, and has since developed a keen interest in this area of communication design…"
Will Neill
"Neill's work aims to reveal the essence of the subject or client, and contribute to the world around us in a positive and complimentary way. He draws inspiration from different cultures and the natural environment…"
_
To see their submissions in detail, head over to www.createawards.com.au.
Also, watch this space for more shortlist announcements over the next few days.