Docklands Spaces
AUTHOR: Heath Killen

Published: December 10, 2012
Building on from their success with Renew Newcastle, the space re-activation initiative Renew Australia are calling for Expressions of Interest from creative enterprises and other unique ventures that may benefit from this temporary commercial space opportunity to locate their activities in Docklands. Proactive people with interesting ideas are encouraged to apply now.
Docklands Spaces aims to activate some of the currently empty or underutilised retail properties in Docklands, through incubating short-term uses by creative enterprises and independent local initiatives on a rent-free basis. As with the Renew Newcastle model, new creative enterprises are given temporary access to otherwise empty spaces to incubate their creative initiatives and ideas, building local economic development.
Renew Australia is seeking makers, designers, photographers, printmakers, painters, illustrators, architects, milliners, jewellers, publishers, laptop businesses, animators, video or music makers, and other creative types. Selected participants will be given short-term access to an assortment of retail and office spaces, made available thanks to the support of the City of Melbourne, MAB Corporation, Places Victoria, and various private property owners.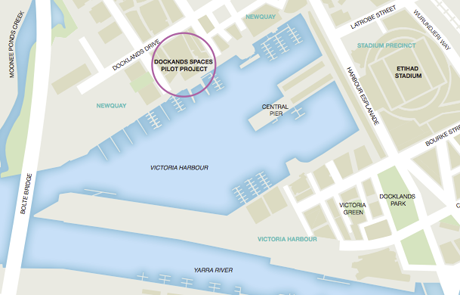 "Docklands Spaces will drive activity and innovation, creating new and interesting projects that will be great for the area", Renew Australia's Director, Marcus Westbury, said. "These projects are a win-win for the creative participants, property owners and the local community".
For more information, or to register your interest, vist the Docklands Spaces website.