Does creativity impact the bottom line? Adobe study says yes
AUTHOR: Desktop

Published: October 9, 2014
In an age where "creativity is an intangible characteristic that most every company aims to cultivate," how do we go about placing a dollar value on such an essence? Earlier this year, Adobe commissioned Forester Consulting to uncover a "creative dividend". The study found that companies embracing creativity undoubtedly outperform their peers.
As "design-led innovation" gains more momentum within corporations, we can see that cultivating creativity is more likely to lead to outperforming less-creatively-inclined counterparts on significant business measures. This could be due to creative individuals enjoying a high-performance work environment, where projects are driven by "progressive leaders that provide processes, methods and funding, to back creative initiatives".
To gain an insight on how creativity is valued in business, Forrester questioned executives at enterprises and agencies, which resulted in many describing creative companies as "more willing to pursue the unconventional, push limits, and try new things — and that people who work at these firms are never satisfied with the first attempt. They see creative companies as more collaborative and involved with their customers, as "leadership at creative firms," they believe, "invests resources specifically in creativity and accepts failure as a by-product of any business pursuit."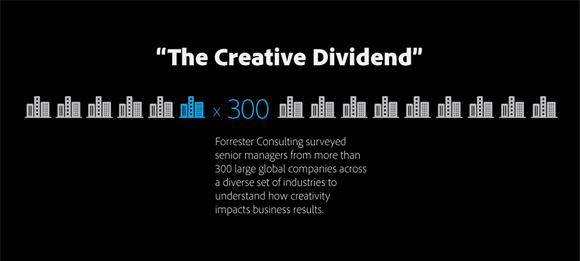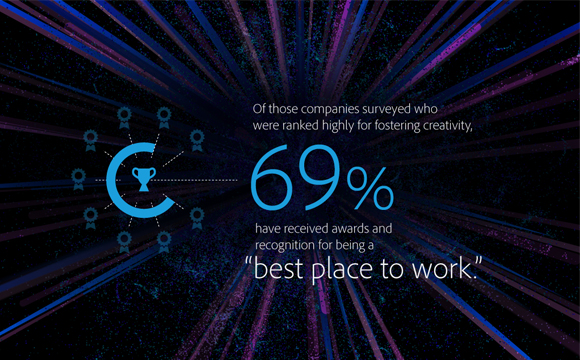 David Wadhwani, senior vice president of Digital Media at Adobe explains that, "for years, business leaders have focused on things like employee productivity, process efficiency and workforce planning as the key success drivers for their companies. But over the past few years, the mindset has shifted. Leading companies recognise the importance of another key success driver."
"Businesses across Asia Pacific have embraced the shift towards a knowledge-based economy; those which focus only on efficiency and pricing will eventually reach a glass ceiling, while those which embrace and foster creativity and innovation will lead the way," said Paul Robson, President, Asia Pacific, Adobe. "Businesses need to incorporate creativity as a key organizational KPI, on par with revenues and brand equity, as a measure of success."
The full report can be downloaded, here.