Feeling And Seeing: Drugs On Film
AUTHOR: Bonnie Abbott

Published: December 27, 2013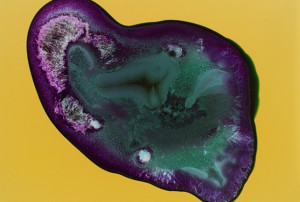 Photographer Sarah Schönfeld recently turned her studio into a laboratory, squeezing drops of legal and illegal liquid drug mixtures onto unexposed film, then blowing up their crystalline forms and fractal photosensitive reactions into large-scale prints. In the series, entitled All You Can Feel, Schoenfeld explored the unseen universes within these substances as maps of our modern psychiatric development.
"We are able to explain moods, angers, and diseases- both physiological and psychological- through an imbalance of substances in the body," explains Schönfeld. "All of this takes place against the backdrop of a constantly shifting legal and political climate regarding the regulation of different types of mood altering substances."
Schönfeld found the various effects could take long periods of time to fully develop, whereas others "can barely be stopped", much like their relative effects on the human brain. By exploring a possibility of photography at the frontiers of what can be visually portrayed, Schönfeld documented an interface between representation and reality, a space many designers, artists and creatives seek to uniquely discover and occupy.
Asking "What do all these substances actually look like when their essence is visually depicted?" Schönfeld was able to photographically theorise – "We in the western world have increasingly come to understand our most intimate desires and experiences, as the products of a so-called "chemical self."