Get inside your favourite studio: A Big Brief Night is back
AUTHOR: Desktop

Published: April 24, 2015
A Brief Night has transmogrified into a super version of itself: A Big Brief Night! As part of the Melbourne International Design week this May, the premise for the event is simple: one brief, one night, eight studios.
—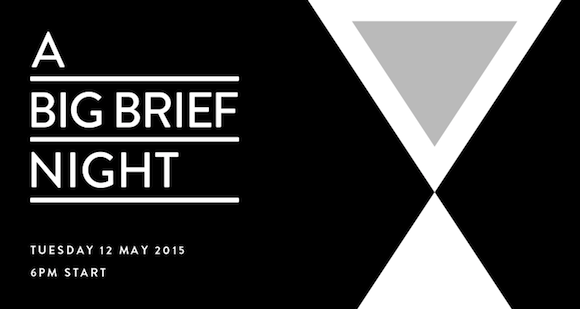 Taking place across the eight participating studios in Melbourne, Torquay and Mildura, A Big Brief Night is a hands-on, 90-minute sprint for students, grads and aspiring designers, with the intention to bridge the gap between education and industry.
Forget your ideals, here you won't have months, weeks or even days to research, revise and revisit your design work. There is no room for pondering, no gaps for mulling over. Instead, you will experience the realities of operating within the demands and deadlines of a fast-paced studio, working on the type of projects the industry might throw at you when you're in the workplace. Participants on the night at each of the 8 studios will be presented with the same solo design brief. The count down then starts and you have 90 minutes to respond, with advice and direction on hand from the studio professionals.
As in the real world, the brief may not be perfect, and you'll need to be on your guard for any extra curricular requirements.
When the time runs out, the designing stops. Each participant will then present their work to the rest of the group and get a chance to hear how they've done.
Participating studios include Yoke, Motherbird, Alter, Canyon, Fluid, Saunders Design Group, Seesaw and WildHen.
—
For more info and to register for the event visit the website.