Inkahoots avoid 'smothering', create open-source identity
AUTHOR: Desktop

Published: November 24, 2014
Brisbane studio Inkahoots has been collecting typographic 'O's from around the world, inviting people to submit their "drawn, painted, photographed or found" lettering along with a statement about open-source design. Now, the reason has come clear: the studio has taken pieces from the donated letters and created the identity for Burst Open, a new design exhibition, curated by Christian Duell & John de Manincor, at Brisbane's Gallery Artisan.
In what the studio claims could be the first ever augmented, performative, open-source design exhibition identity, the ideas of open source design and the possibilities it offers are explored as a way to respond to social and environmental issues. The inclusive nature of this is what grounded the identity, exhibition design and, using the donated statements, an interactive projection.
The projection's animation is controlled by movement. The 'O's shift and change in response to visitors using their arms to tracing an 'O' in the air, or raising their arms to pauses the film, displaying the name and location of the creator of that particular 'O', along with their statement.
Exhibition graphics and signage use materials, such as plywood and acrylic, that are etched and routed, and graphics that are overprinted and loosely gridded, all referencing the democratic looseness of open-source.
"These combined strategies have created an exhibition identity that is participatory, open and dynamic," explain the studio. "It resists the smothering ideology of 'branding' while allowing for visual manifestations of identity that incorporate time, space and the body. And it's fun!"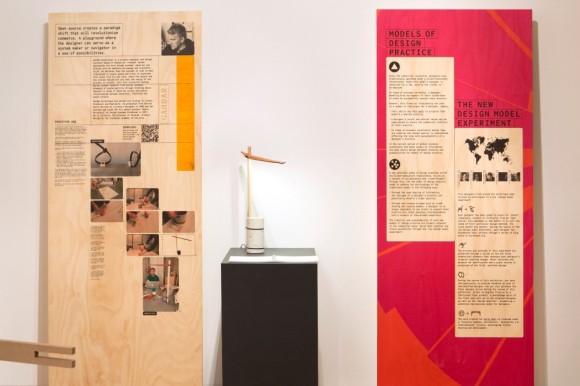 Burst Open runs from October 4 to December 24 at Brisbane's Gallery Artisan.
—