Instagram changes its look, internet reacts
AUTHOR: Desktop

Published: May 13, 2016
Yesterday saw the launch of Instagram's new look that included an updated icon and new interface design, and a new unified set of icons for Boomerang, Hyperlapse, and Layout.
The icon serves as a colourful doorway into the app which now has a new user interface with a less is more approach – a simpler, more minimalistic design that gives more prominence to the photos and videos of its users.
Instagram's head of design Ian Spalter writes, the new logo "sets the groundwork for years to come."
"When Instagram was founded over five years ago, it was a place for you to easily edit and share photos," he shares. "Instagram is now a diverse community of interests where people are sharing more photos and videos than ever before, using new tools like Boomerang and Layout, and connecting in new ways through Explore."
As with any redesign, there were mixed reactions towards Instagram's new look, especially to its new icon.
Design expert and former art director at the New York Times Steven Heller told Tech Insider that doesn't have many strong feelings about it and that the new icon is "not a big deal".
Reactions on Twitter were less forgiving, as the desktop team found out after trawling the Internet.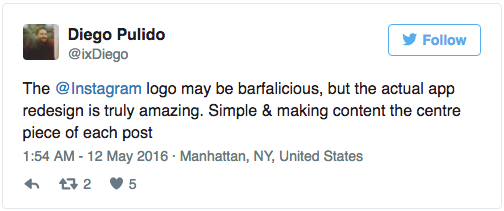 And our favourite:
---