Keep Britain Tidy: Posters from the 'Nanny State'
AUTHOR: Desktop

Published: March 17, 2014
As both a celebration of communication design and Britain's enduring civic spirit, the newly released Keep Britain Tidy from Thames & Hudson boasts a collection of over forty richly printed (and detachable) posters from 1940-1970.
Acquired from the National Archives, these 'Nanny State' posters make a point of promoting everything that a citizen may need to lead a fulfilling post-war life. From guides on food preparation, health procedures and household maintenance, to employment advice, holiday recommendations and anti-smoking campaigns, Keep Britain Tidy showcases a selection of the best work from the golden age of public information art.
Social issues can be traced across eras, evident in the appearance of a rather terrifying accusatory entity in the early 1940s (possibly a reaction to global struggles of the time), while artists in the 1970s were able to take a much softer approach.
Where children of the 1950s were reportedly healthier in comparison to their modern playmates, it is interesting to see the promotion of fat, starch and sugar as positive elements in a diet, which stands at odds with messages adopted later in the century.
Upon the release of medical evidence and statistical exposure to global crime, the designs of the mid 20th century began to target health and safety concerns of the public.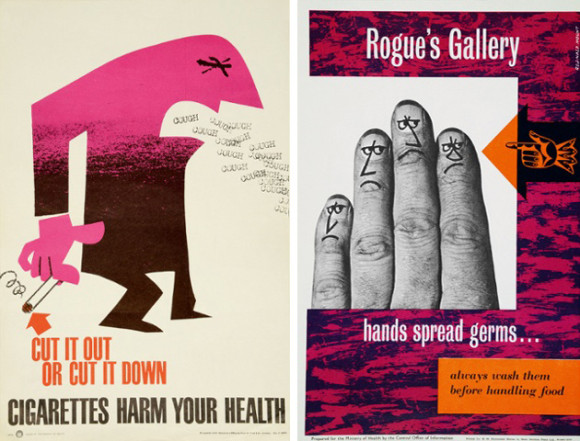 An intriguing combination of humour and underlying severity allowed posters to uphold both a sense of humanity and authority. Avoiding drawn-out copy, quotes and statistics, designers instead had the ability to employ illustration as a means to urge viewers to pause and reflect upon issues that were undeniably relevant.
Available from all good bookshops and online stores, this book will soon be available from Thames & Hudson.