Oslo designers create Norway's new bank notes
AUTHOR: Desktop

Published: October 10, 2014
Earlier this year, eight designers were invited to pitch their ideas for Norway's new bank note on the theme of 'sea' by Norges Bank, recently it was announced that two Oslo-based studios — The Metric System and Snøhetta — have both been asked to create imagery for one side of the updated currency.
Snøhetta's creation, titled 'Beauty of Boundaries', shows seemingly pixelated scenes of a Norwegian coastal landscape. Clean and modern in style, the studio explain that they wanted to echo "where the land and sea meet, referencing communities which thrive on the coast." Apparently, the abstracted pattern is set to mimic the Beaufort wind scale, with each denomination accumulating intensity as the monetary value increases. For example, the 50 Kroner note mirrors a weak wind force using short, square shapes, while on the 1000 Kroner note, we can see elongated forms depicting a stronger gale force and choppier waves upon closer inspection.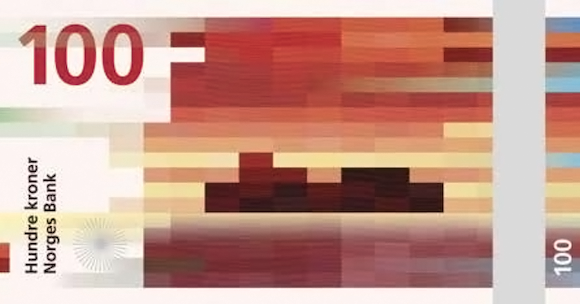 On the flip-side, Norges Bank explain, "the obverses from the Metric System are very well suited to the incorporation of necessary security elements." Retaining a cultural aesthetic while prioritising function, "the expression is open, light and typically Nordic. Using the pixel motifs from Snøhetta Design as the reverse will give the notes both a traditional and a modern expression."
All shortlisted designs will be on show in an exhibition held at Grafill in Oslo, which opened this week and will continue until October 26. More information can be found, here.
—