Review: 'What's On' Sydney website
AUTHOR: Issac Teh

Published: July 6, 2015
Congratulations Sydney-siders! There's a new online platform in town for you to uncover great events and optimise your weekends. The website, whatson.sydney, by Frank Digital and City of Sydney promises to add to the tapestry and vibrancy of the city by not only displaying event listings but also allowing users to submit them. Before you get your feet wet, the team at desktop thought we'd break it in and give you our take on this brand new website.
–
First look 
It's fresh and clean, sporting an organised grid-style and map-view user interface. Blocks of purple are used as highlights throughout, uniting all the moving parts and making this a very cohesive entity. The feature photographs for the grid entries on the front page look as though they've been curated carefully to fulfil the purpose of enticing the audience. Even down to the font choice of the modern angular Reso Light, all elements contribute to a practical, no clutter, no frills approach to design.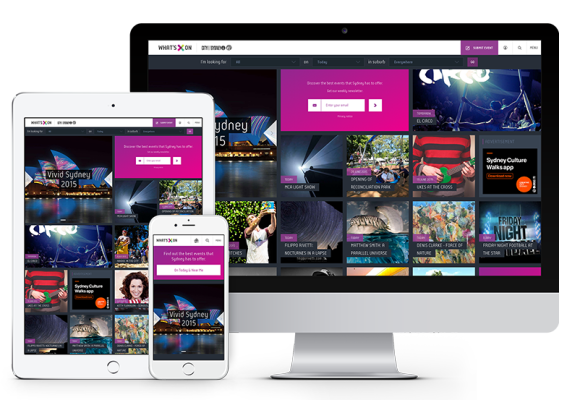 Functionality
The great thing about the site is that there is no room for confusion, what you click is what you get. The website has a prominent drop-down bar area that allows you to search for events with a specific type, date and venue. And if you're feeling a little more suggestible, you can go into the "Our Picks" section for events categorised in quirky ways such as "For the Brave" or "For the Hipsters". What we also love is that the layout for individual entries are easy to read, providing all the necessary information like costs and accessible services.
If you're on the go very often, you'd also be happy to know that this website is responsive so you can use it on your phone or tablet. Perfect for when you're out, on the fly with your friends, looking for somewhere to go.
Our Take
The website definitely does live up to it's promise and it does so in a way that is simple and easy for the user. Matt Barbelli, creative director of Frank Digital says, "We wanted to design a site with all users in mind." This is something that they have done not only visually but also with usability as well. Sydney, get ready to paint the town red because with the new 'What's On' site, we don't think you'll be able home very much.
–
Images: Frank Digital
www.frankdigital.com.au
Now in its sixth year, Frank Digital specialises in building best in class, high performing websites. They are based in both Sydney and Melbourne and have serviced prominent accounts with Federation Square, Qantas and IKEA.