Skincare brand Aesop creates archive of its retail design
AUTHOR: Desktop

Published: October 6, 2015
From the deep emerald green tile in the Covent Garden, London, location to the precarious-looking but beautiful ceiling display of 7,560 glass bottles at its signature Adelaide store, Australian skincare brand Aesop does one thing that most retail brands overlook: Keeping the excitement in retail design.
_
Aesop has stores in Singapore, Melbourne, Kyoto, Paris, New York, São Paulo and many other cities, including its 100th addition in Oslo, opened in 2014. This means there's been numerous collaborations with various architects and designers, such as Paulo Mendes da Roch and Snøhetta. The design for each store is different and no two stores are the same. But they are all recognisable as Aesop, sharing what seems as a very subtle but in actual fact a very strong design similarity and language.
In light of this, and to archive the creative collaboration processes that were behind these beautiful retail spaces, Aesop approached Sydney-based digital agency, Pollen, to create  and build the website called the Taxonomy of Design.
Taxonomy of Design deconstructs the design of Aesop boutiques all over the world and features filmed interviews with esteemed collaborators, photographs, stories, videos and quotes, which are searchable by store, designer, features and materials.
Each element has what Pollen calls a 'buoyancy' formula, allowing the most recent content to float to the top of the taxonomy, keeping the content fresh and allowing the team at Aesop greater control over the order of elements.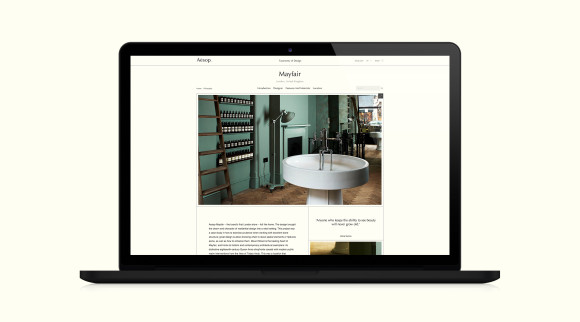 For Pollen, it was a daunting challenge. How do you take a brand like Aesop and build a platform on which to document its unique retail environments, now and into the future?
"We wanted to reflect Aesop's uncompromising pursuit for perfection and its understated minimalist aesthetic, while still providing a high level of usability," says Brett Mitchell, Director of Pollen.
Taxonomy of Design currently features 38 stores and the taxonomy will grow as Aesop continues to catalog the remaining stores.
"Taxonomy of Design is a true collaboration between Aesop and Pollen. Together, we've created a platform that appears minimalist at first glance, yet is cleverly architected to encourage exploration," says Emma Forrest, Digital Program Manager at Aesop.
The final product, like the stores it represents, is a lovingly crafted affair. Strategically, it gives users the chance to discover what makes Aesop one of the world's most distinct and unique companies.
_